Greek PM dissolves parliament ahead of snap elections
Comments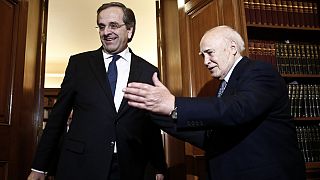 Greece's Prime Minister Antonis Samaras has requested that the Greek parliament be dissolved.
This following parliament's failure to choose a new president after three rounds of voting.
Early elections are now compulsory by law. The election date has been set for January 25, 2015.
"The parliament is being dissolved prematurely," explained Samaras, "and the upcoming elections were not wanted by the Greek people, they were not required and they are happening due to self-interest."
Greek share prices slumped on news of the snap election, with a knock-on effect in other European stock markets.
The euro plunged to a 29-month low against the dollar.
Political analyst Grigoris Tziovaras said: "This is one of the most crucial general elections in decades, as its outcome will determine this country's future and its relationship with its European partners. An outcome that will be largely determined during the pre election campaign period".
Euronews correspondent Stamatis Giannisis reported from Athens: "With only 26 days to the vote this is going to be one of the shortest election campaigns in modern Greece. The big ideological differences between the two main parties make it one of the most politically polarised in the recent history of the country."