Indonesia remembers victims in Aceh, area worst hit by 2004 tsunami
Comments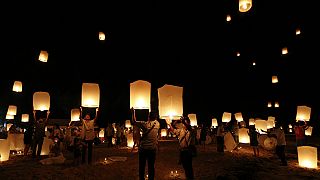 A decade on, memorial services have been taking place to remember thousands of people who were killed in the Indian Ocean tsunami.
The tsunami taught us how to resolve a complicated problem by uniting as one
Indonesia has thanked the international community for its help in the country's recovery. Performers waved flags of the nations who contributed as the vice-president and his wife visited one of two mass graves for the disaster victims.
Hit by a 10-metre wave, Indonesia's Aceh Province bore the brunt of the devastation on December 26, 2004. Almost 170,000 people died in this province alone – nearly three-quarters of the tsunami's total number of fatal casualties.
"This commemoration ceremony is not only to pray for the victims and thank the people around the world, but it is a time when we learn how to resolve the problem – as the lesson (from the tsunami) taught us – how to resolve a complicated problem by uniting as one," the Vice-President, Jusuf Kalla, said.
In the city of Banda Aceh, thousands gathered at a mosque that was one of the few buildings left standing after disaster struck that day.
The lives of many worshippers were shattered.
The imam said the tsunami had at least brought peace to the province which had suffered years of conflict between the government and rebels.
After a massive earthquake measuring 9.1 struck out at sea, the wave – often over 10 metres high – devastated the coastline in a dozen countries, destroying entire towns and villages in seconds.