Protests in US after another fatal shooting of a black man by police
Comments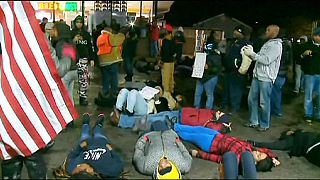 Demonstrations went on into the night in a suburb of St Louis in the US after a white police officer shot dead a black man reported to have pointed a gun at him.
The scene of the shooting in a petrol station is only a few minutes drive from where another shooting of a black teenager in August sparked nationwide protests.
Theodore Hoskins, the Mayor of Berkeley, where the drama happened, said: "What I saw in this incident, is not what people portray. There was a gun pointed at the officer before the officer fired. But we've got to complete our investigation before we take a position."
Officials are attempting to distinguish the latest death from other cases of unarmed black men being killed by the police.
The killing in nearby Ferguson of unarmed teenager Michael Brown triggered weeks of unrest.
A grand jury decided not to lay charges in that case.