UK 2015: is UKIP poised to shake up the political system?
Comments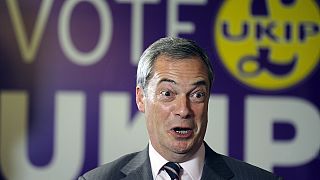 Euroscepticism looks set to be a key motivator in the United Kingdom, which will hold general elections in May 2015, most probably on the 7th. Like Spain, Britain also had a functioning two-party system before the 2008 crisis, making coalitions relatively uncommon. But the rise of the anti-immigration UKIP party is seriously threatening this system. A coalition between the Conservative Party and the Labour Party or an agreement between the Tories and UKIP both seem impossible for now, but either would be conceivable if no party wins enough seats to govern on its own. So far, a hung parliament seems to be the most probable outcome, as predicted by two political scientists.
Britain has always been more or less, and relatively, Eurosceptic, but the rise of UKIP in recent years suggests that the party of Nigel Farage is going to have an important role to play in these elections. Listing a remarkable number of uncertainties linked with May 2015's elections – among them the uber question "Will Britain remain in the EU?"- pundits are already speaking about a "UKIP factor" that could put an end, at least for the foreseeable future, to the old hegemony of two-party politics.