EU summit agrees 300 billion euro fund to avert crisis
Comments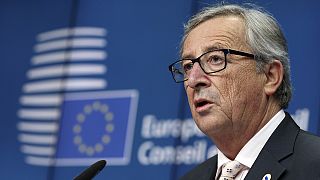 EU leaders have agreed to launch an investment fund that could generate up to 300 billion euros to jump start the bloc's sluggish economies and ignite job growth.
The plan is the brainchild of European Commission President Jean-Claude Juncker.
"We want to ensure that through the promotion of investment in Europe, we can revive economic growth, and thus mobilise public and private money to increase the number of people who are at work and thereby reduce the number of those who are unemployed," explained Juncker.
The meeting ended one day early after a discussion over dinner on Russia and Ukraine called for a tough and responsible strategy.
"The situation in Ukraine remains dramatic and dynamic and requires an immediate response that's why I have just discussed giving financial support to Ukraine. We are sending a strong signal on our readiness to do so. We also talked about Russia's policy towards its neighbors and our strategic response," said EU Council President Donald Tusk.
Euronews correspondent Isabel Marques da Silva reported: "Although the investment plan is been presented as the flagship for Juncker's Commission, the Lux leaks scandal put tax evasion in the center of the discussion on how to get more money for public spending. In this summit conclusions document, the leaders asked for new legislation that will bring more transparency and harmonisation among the 28 countries."