Palestinian acid attack injures Jewish children near Jerusalem
Comments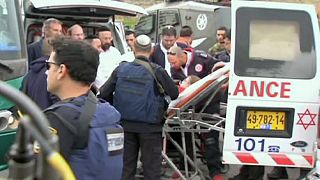 A Jewish family of six has been the victim of a suspected acid attack in the Israeli-occupied West Bank injuring a father and his four young girls.
Israeli police and military say a vehicle carrying the family picked up a hitch-hiker near a security checkpoint south of Jerusalem.
He threw a liquid over four young girls and tried to attack the father with a screwdriver. The father escaped. The suspect, who the Israel Defence Forces (IDF) say was Palestinian, was shot at the scene by a civilian. He remained in a serious condition.
Meanwhile Palestinian protesters clashed with Israeli forces in the West Bank city of Hebron on Friday as Hamas supporters gathered for a rally in the city to mark the 27th anniversary of the founding of the Islamist organisation.
A border police officer was lightly wounded by a rock.