Oil spill threatens UNESCO world heritage site in Bangladesh
Comments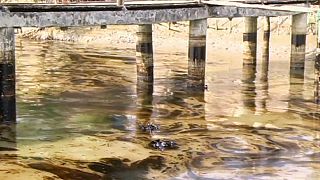 An oil slick has choked up to 50 kilometres of the Shela river in Bangladesh after a fuel barge sank on Thursday following a collision with an oil tanker.
The tanker was believed to be carrying up to 350,000 litres of furnace oil.
Locals began the clear-up using sponges and sacks as officials said the damage had already been done to the Sundarbans UNESCO world heritage site.