Syrian 'moderate' rebels sign agreement for transition plan
Comments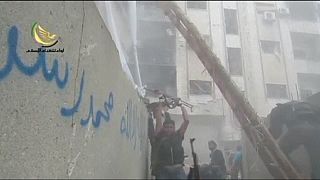 Around 17 different rebel groups in southern Syria have signed an agreement for a transition plan for the country.
The groups are viewed by the West as more moderate and potential partners to fight against both the Syrian government at Islamic State jihadists.
The anti-government  rebels believe it will be easier to end the conflict in the south of Syria first rather than the north, where the jihadists have taken hold.
Meanwhile unverified images of fighting outside the Syrian capital Damascus have been uploaded to the internet.
The scenes purport to be of fighters from a faction linked to the Free Syrian Army exchanging fire with government forces.They show at first hand the devastation caused by the country's four year civil war