Royal surprise as Richard III's DNA evidence of infidelity
Comments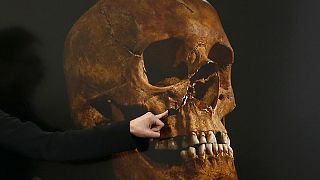 The 500-year-old bones of Richard III's skeleton, recently identified thanks to his DNA, have unearthed another mystery.
DNA markers found in living relatives of the king show a genetic match between the skeleton and the maternal line relatives. However, Y-chromosomal markers differ.
"We have found a 'break' in the chain", Prof. Schürer, a pro-vice chancellor at the University of Leicester, said in a press conference on Tuesday. The discovery probably means that an illegitimate child has entered the royal genealogy.
According to Schuster, while the scientists are not sure when it happened, the 'break' could pose questions regarding the legitimacy of a series of British monarchs: "Henry IV, Henry V, Henry VI and the Tudors dynasty including Henry VII, Henry VIII, Edward VI, Mary I and Elizabeth I", he told AFP.
According to researchers the combination of genetic and archaeological evidence show that there's a 99.999 percent chance that the remains belong to the medieval king. The bones of Richard, the last English monarch to die in battle, were found by archaeologists under a municipal car park in the central English city of Leicester in 2012 and were subsequently studied by experts from the university.
Blond, blue-eyed child
In a research paper published in September, scientists were able to give blow-by-blow details of the king's death at the Battle of Bosworth more than 500 years ago, revealing he was very probably killed by a blow to his bare head.
The team also used genetic markers to determine Richard's hair and eye colour and found he was probably blond, especially as a child, and almost certainly had blue eyes.
The royal remains will now be moved to rest in the cathedral of Leicester this coming spring.
(with agencies)