Libya set to dominate visit of Egypt's Sisi to Paris
Comments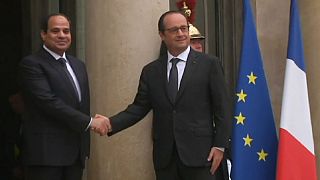 The Egyptian President Abdel Fattah al-Sisi has arrived in France for a two-day visit which looks set to be dominated by security issues concerning the situation in Libya.
Paris says it considers Egypt a "big partner" and Sisi a "legitimate" president, despite the crackdown on supporters of his Islamist predecessor, imprisoned journalists, and repression described as "going beyond the fight against terrorism".
For Italy too, Egypt is an essential strategic partner.
That was the message al-Sisi received in Rome on Monday when he met Prime Minister Matteo Renzi.
Regional security also dictated his Italian visit – particularly the threat posed by the chaos in Libya since Gaddafi's overthrow.
Renzi said his talks with the Egyptian leader brought agreement on the need for a united Libya. Both leaders also agreed the danger of terrorism from Libya had to be thwarted. Egypt shared a border of over 1,000 kilometres with Libya.
"Ninety-seven percent of migrants arriving in Italy by boat come from Libya, due to the lack of controls on the Libyan coast," Renzi said.
Attention now focuses on Sisi's French visit.
Cairo has made it clear it supports the internationally recognised parliament which was forced to flee to Tobruk in eastern Libya.
While warning against direct involvement in Libya that could worsen the situation, Paris argues a political solution is essential.
Economic issues will also be discussed. The Egyptian delegation is due to meet French business leaders.
Earlier this year the French shipbuilder DCNS signed a contract worth an estimated one million euros to supply the Egyptian navy with four small warships.
Amnesty International has called on France to suspend all weapons transactions to Egypt because of the "alarming" human rights situation in the country.
Reporters Against Borders has also written an open letter calling on President François Hollande to raise the "shocking" crackdown on journalists in Egypt in the name of combatting terrorism.