Colombia: Peace talks could resume as FARC rebels release two hostages
Comments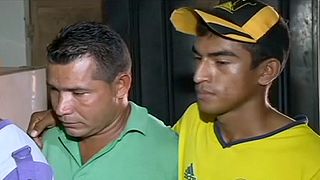 Marxist rebels in Colombia released two hostages on Tuesday (November 25).
Soldiers Paulo César Rivera and Jonathan Andrés Díaz Franco were freed as part of a deal to resume peace talks between the Revolutionary Armed Forces of Colombia (or FARC) and the government.
Rivera and Diaz were taken two weeks previously, during combat with the FARC.
The agreement is dependent on a further three hostages being released: a civilian lawyer; a military official; and army general Ruben Dario Alzate.
Cuba is hosting the talks and facilitating them in partnership with Norway.
FARC negotiator Rubin Morro spoke from Cuba:
"We hope the government signs the necessary protocols. We are honouring our side of things, so we hope they do, too. And we think the general will be back home this weekend at the latest", he said.
The International Committee of the Red Cross (ICRC) checked the soldiers to see if they were fit to travel. They are expected to be returned to their families in Bogota shortly.
Speaking after the release of Rivera and Diaz, Colombian President Juan Michel Santos hailed the latest developments as an "important step" in the peace process
However, he has declared discussions with the militant group will be suspended until all five captives are freed.
The FARC claims it is focusing efforts on releasing the remaining hostages. But it accuses the government of hindering the process by conducting military manoeuvres in the area.
Conflict began in 1964 when the FARC was founded. Since then, more than 200,000 people have died and millions more have fled from the violence.
Peace negotiations were started in 2012.