Watch: UK economics editor furious about latest scandal to rock world banks
Comments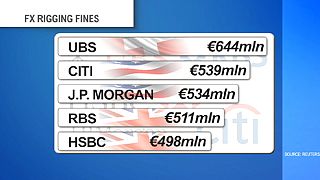 The economics editor for Britain's Channel 4 News has spoken openly of his outrage at the latest scandal to rock the world's top banks.
Reacting to the news that a handful of leading banks have been slapped with fines for rigging a key foreign exchange benchmark, editor Paul Mason said: "There's five UK banks whose foreign exchange traders ripped off their own clients."
In a video on Channel 4's YouTube channel, Mason can be seen standing outside the Royal Bank of Scotland headquarters in London, openly seething at the latest problem to mar the world's financial institutions. "We really deserve a better banking system, because everyone on this street who doesn't work in it, is also reliant on it."
"I've sat in a room with the bosses of this bank (RBS) and all the other banks – it's over six years now since it nearly went bust – and I've sat in rooms where they're pleading in the most gentile tones 'Don't over-regulate us'… 'Don't make it possible for us to go to jail, otherwise nobody talented will come and run these banks'," Mason fumes.
UBS, Citibank, JP Morgan Chase, HSBC, Royal Bank of Scotland and Bank of America were all handed fines after it was found some foreign currency dealers had been coordinating their trades and sharing confidential information about client orders for years.
"At the end of the day, with this foreign exchange investigation, as of right now – one o'clock – no criminal charges," Mason continues. "And yet they've even got transcripts of the chatroom discussions where the rigging of the market took place."
"If the banks had the same scrutiny over the traders and their own managers as they have over the camera crews standing outside it, where you get a security guard coming and asking what you're doing, we might not be in this situation", he adds.
He closed his diatribe with a plea to the financial regulators: "All we ask – all we can ask – is that the regulators do their job proactively. That they actually get on the case – just like the security guards outside here and the CCTV cameras and the City of London police – they get on the case and they stop wrongdoing in advance. What's so hard about it?"
A question countless others are doubtless also asking.