The extravagance of Turkey's presidential palace
Comments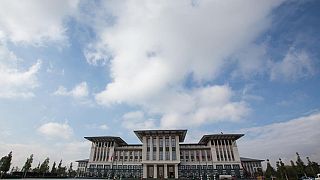 "Let them tear it down if they can. They ordered its suspension, yet they can't stop this building. I'll be opening it; I'll be moving in and using it."
The words of Turkish president Recep Tayyip Erdogan when faced with critics of his "white elephant", or rather white palace.
The residence boasts 1,000 rooms and cost $350 million (€280 million) to build.
It was built on land donated to the state in 1937 and the area declared a protected site in 1992. Constructing a building on the site is and remains illegal.
An administrative court demanded that construction stop. This was backed up by the Council of State. In fact there were reportedly three injunctions from three different administrative courts to stop the building of the palace.
Rather than back down, Erdogan challenged his adversaries. Neither courts nor critics would stop him.
Recently unveiled, the building has state-of-the art security that includes bunkers, tunnels to protect against chemical attacks. The complex has a room with military communications and satellite systems. And to prevent the planting of bugs, one of the offices in the palace has no electrical outlets.
The compound has a building for meeting heads of state and dignitaries, guesthouses and a congress centre. In addition there is a botanical gardens and a park.
As has been well documented, the palace was intended for the prime minister but is now the official residence of the president. And as such, Erdogan had a three-storey building added to house his family.
The president has brushed aside critics of the cost. One such person, Umut Oran, a deputy for the opposition Republican People's Party, claimed the president's budget was three times that of the British Royal Family.
"What could have been done with that money," said Oran. The deputy suggested Turkey could have sent three satellites to Mars.
Another deputy said it made Moscow's Kremlin compound look "like an outhouse".
To put Erdogan's palace into context, the White House sits on a plot that is 52 acres in total. The Kremlin wall encloses an area of 68 acres. The palace sits on a site covering 74 acres.