Anthropologists are popping their corks around the planet over the discovery of new cave paintings where few were expecting it.
The latest excitement surrounding human origins lies in Indonesia.
Archaeologists have found cave art that rivals Western European cave art in age, or is even older than the earliest art in Europe.
It's on the island of Sulawesi (formerly Celebes), between Southeast Asia and Northern Australia, east of Borneo.
The team from Australia and Indonesia have given the paintings a minimum age of 39,900 years by measuring the uranium decay in the stony crust on the cave walls (some call it 'cave popcorn').
They are thrilled with 12 images of hands — pigment blown or spat over them stencil-style — and two animals (pig deer, species babirusa).
Led by Maxime Aubert of Griffith University in Queensland, the researchers at the Leang Timpuseng cave site write in the journal Nature:
"It is possible that rock art emerged independently around the same time and at roughly both ends of the spatial distribution of early modern humans [60,000 or more years ago]…"
But it could also be "… that cave painting was widely practised by the first homo sapiens to leave Africa tens of thousands of years earlier."
Given that art so distinguishes humans from other animals, Pallab Ghosh, a science correspondent with the BBC, talks about the emergence of art marking "a beginning of a surge in the development of human intelligence… an ability to think in abstract terms."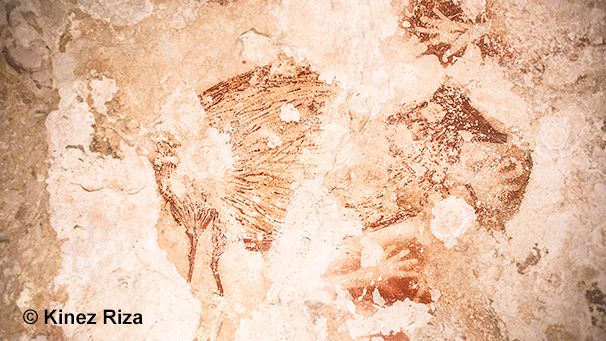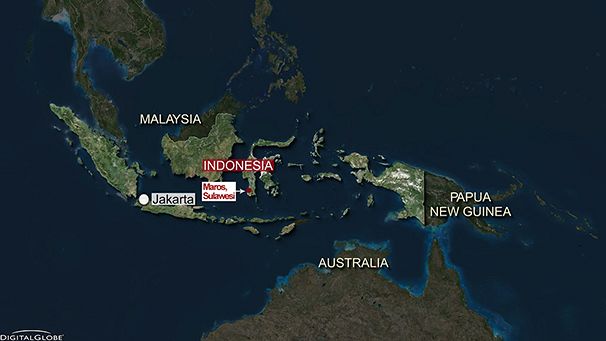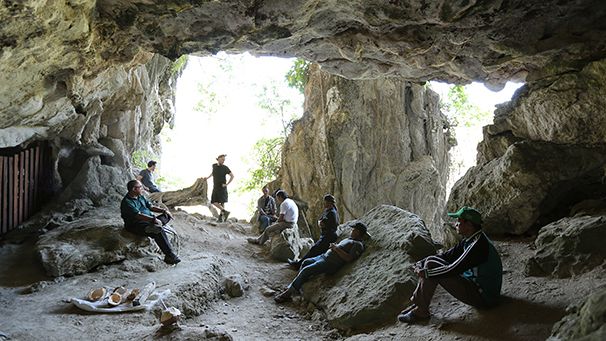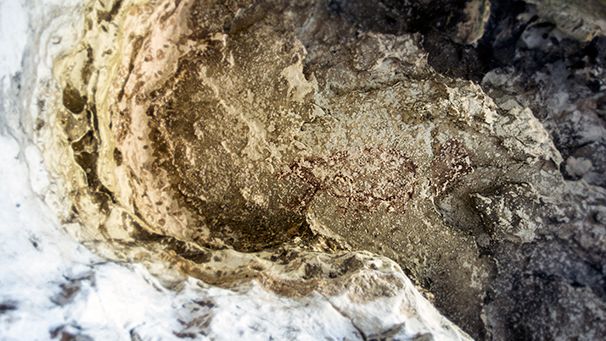 Examples of abstract terms? Fascination, questioning, wondering why, belief systems.
Historically, European peoples have thought that their technological and various other advantages over people in 'the rest' of the world meant they had done things best and longest.
This conventional thinking finally began unwinding in the 19th century, notably thanks to Darwin, although progress was slow.
The exploration of Africa — the 19th century grab for European colonial interests — paid little mind to tracing the origins of humankind.
The first prehistoric cave paintings, in Alta Mira, northern Spain, were made public in 1880.
The Sulawesi team pursues the modern tradition of exploration, of both the scientific and the abstract.
From Wikipedia
Sulawesi, pop. more than 18 million, is the world's eleventh-largest island.
Crude stone tools first discovered in 1947 are thought to date from 50,000 BC.
In 1905 the island became part of the colony of the Netherlands East Indies.
A bloody revolution after WWII led to the formation of the Republic of Indonesia in 1950.