What's wrong with Kim Jong-un; Who's running North Korea?
Comments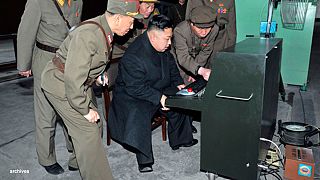 North Korea has denied reports that its leader Kim Jong-un is in ill health and that his sister is now running the country.
A statement from a government envoy describes claims that he is having ongoing medical treatment and that the military is on wartime-like alert as "fabricated rumours".
A Seoul-based think tank of North Korean exiles reported that Kim hasn't been seen in public since early last month and that his sister Kim Yo-Jong has taken over.
They say the 33-year-old is having extended medical treatment, although no specific information about his health was given.
But reports suggest his doctors have flown to Germany for medical advice on how to treat him.
Another claim – by a former North Korean counter intelligence official – suggests the supreme leader has been overthrown and that the country is in a civil war-like state.
Jang Jin-sung told Vice he thinks Kim is now just a "puppet leader" and that North Korea is now being running by a new elite group.
The Yonhap News Agency reports that Kim is suffering from gout while Free North Korea Radio (FNK) says he has had surgery on his ankle.
The rumour mill has gone even further, that he had become so fat since taking office that his ankles had fractured under his own weight.
North Korean officials will only say their leader is suffering from "discomfort".
This is not the first time the 33-year-old, who took over from his father as head of state in December 2011, has gone missing.
About six months into his leadership, state media didn't report on him or photograph him for almost a month.
Due to the North Korea being cut off from the rest of the world, Kim has been the subject of much rumour and speculation about his character, lifestyle and leadership style.
Less than two years into the job, South Korean intelligence sources claimed he had been subject to an assassination attempt.