Ironic or racist? Banksy artwork on immigration causes controversy
Comments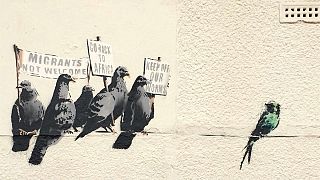 British graffiti artist Banksy has had a satirical mural on immigration erased – after someone took it for being racist.
The work – seemingly poking fun at the anti-immigration narrative – appeared in Clacton, England.
The seaside town will be the battleground next week (October 9) between Britain's anti-immigration party UKIP and the ruling Conservatives.
A by-election was triggered after Clacton's Conservative MP Douglas Carswell defected to UKIP.
The mural by Banksy, famous for his anonymity, appears to mock the right-wing narrative on immigration.
It shows pigeons holding up anti-immigration signs in the direction of a more exotic-looking bird.
The notices read: 'Migrants Not Welcome', 'Go Back To Africa' and 'Keep Off Our Worms'.
The local authority, Tendring District Council, said it had received a complaint the mural was "offensive" and "racist".
Spokesman Nigel Brown told the BBC: "The site was inspected by staff who agreed that it could be seen as offensive and it was removed this morning in line with our policy to remove this type of material within 48 hours.
"We would obviously welcome an appropriate Banksy original on any of our seafronts and would be delighted if he returned in the future."
SOCIAL
MEDIA
REACTION
So depressing that a new Banksy was removed for being "racist". No it wasn't racist you idiots, it was ABOUTRACISM. pic.twitter.com/FPFEJGlLRE

— John O'Farrell (@mrjohnofarrell) October 2, 2014
Well done #Clacton – You not only remove a worthwhile message from Banksy, but you want to vote in UKIP#SlowHandclappic.twitter.com/QaT1IZw0zA

—

ESSEX

(@DailyESSEX) October 2, 2014
Was this Banksy mural racist? Or did some people not like it highlighting their intolerance? http://t.co/48GyjdAoexpic.twitter.com/f883NGtcHo

— Andrew Stroehlein (@astroehlein) October 2, 2014
A pertinent new Banksy. MIGRANTSNOTWELCOME, said the birds to the bird. In Clacton-on-Sea, UK. pic.twitter.com/I7×94qtSvY

— Julia Baird (@bairdjulia) October 1, 2014