Former British PM Tony Blair hailed a 'gay icon'
Comments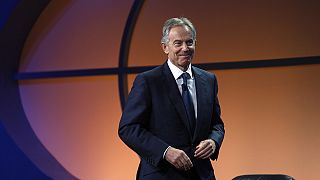 Former British prime minister Tony Blair is one of the biggest 'gay icons' of the last three decades, it's been claimed.
British magazine Gay Times, celebrating its 30th birthday, recognised Blair for his commitment to homosexual rights.
His decade in office was marked by the lowering of the age of consent for homosexuals – in line with that of hetrosexuals – and abolishing 'Section 28', a law prohibiting the authorities to 'promote homosexuality'.
"His status as an ambassador of gay rights is undeniable," said Gay Times. "The legal recognition of transsexuals, civil unions, prohibition of employers to dismiss you because of your preferences and qualifications of homophobia as a hate crime, it all happened during his tenure."
Blair hailed the title of 'gay icon', saying he was proud of his work on behalf of homosexual rights, which he considers part of his legacy.
He added: "When I grew up in politics, I hated hypocrisy pushing people to conceal their identity. And I saw the pain they felt because they could not be who they are."
Blair, 61, won a landslide victory in parliamentary elections in 1997 and led the Labour government for ten years.