Don't back 'state-sponsored homophobia', urges Amnesty
Comments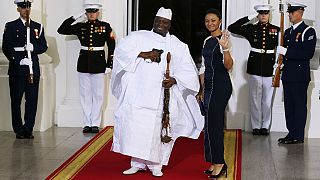 Gambia's president should step back from endorsing "state-sponsored homophobia", a human rights group has urged.
The country's national assembly passed a bill introducing "aggravated homosexuality" as a crime, punishable in some cases by life imprisonment.
President Yahya Jammeh has until September 25 to either approve the law or return it for further review.
Amnesty International and Human Rights Watch says the amendments to the bill would introduce even harsher sentences for those suspected of being gay, lesbian or bisexual.
"President Jammeh should not approve this profoundly damaging act that violates international human rights law," said Stephen Cockburn, Amnesty International's deputy regional director for West and Central Africa. "Gambia's National Assembly and the President should not endorse state-sponsored homophobia."
"This new law will only heap further stigma on people who are already marginalized and living in a climate of deep fear and hate in Gambia," said Graeme Reid, LGBT Rights Director at Human Rights Watch.
Jammeh has made a string of controversial comments about gay people.
"We will fight these vermins called homosexuals or gays the same way we are fighting malaria-causing mosquitoes, if not more aggressively," Jammeh said in a speech on state television to mark the 49th anniversary of Gambia's independence from Britain.
It prompted Britain and some other Western nations have threatened to cut aid to governments that pass anti-gay laws.
But Jammeh said his country would defend its sovereignty and Islamic beliefs, and not yield to outside pressure on lesbian, gay, bisexual and transgender (LGBT) issues.
"We will therefore not accept any friendship, aid or any other gesture that is conditional on accepting homosexuals or LGBT as they are now baptised by the powers that promote them," he said.
"As far as I am concerned, LGBT can only stand for Leprosy, Gonorrhoea, Bacteria and Tuberculosis; all of which are detrimental to human existence," he added.
Amnesty say sections of the law are similar to harsh homophobic legislation that was eventually annuled in Uganda in August.
The original version of the law passed in February punished gay sex with long prison terms; it was overturned on a technicality in August.