Sick of the ice bucket challenge? Here are five worthy alternatives
Comments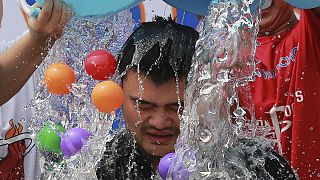 It's the web craze that has flooded feeds and inundated inboxes across the English-speaking world.
And it is a fad with an incredibly broad appeal: celebrities, chief executives and sports stars (here, here and here) seemingly find it as irresistible as the general public.
The ice bucket challenge – which sees devotees pour iced water over themselves – has raised 67.1 million euros for the ALS Association.
Yet, despite the millions it has collected for charity, there is a burgeoning counter movement.
Here we bring together five of the best ice bucket challenge alternatives.



RICE

BUCKET

CHALLENGE

Manju Latha Kalanithi, a Hyderabad-based journalist, says she came up with the rice spoof because she thought the ice bucket challenge was a "lazy way of promoting a cause".

She came up with #ricebucketchallenge – which does not, as you may imagine, require participants to pour grains over their heads.

Instead the idea is to cook some rice and donate to someone in need, a good way, Manju thought, of addressing India's hunger problem.

The Global Hunger Index, published in 2012, said the situation in India was "alarming". The World Food Programme said India was home to a quarter of the world's undernourished.




RUBBLE

BUCKET

CHALLENGE

WHAT IS ALS?
Amyotrophic lateral sclerosis (ALS) – also known as motor neurone disease – is a progressive neurodegenerative disease that affects nerve cells in the brain and the spinal cord.

Motor neurons carry signals from the spinal cord to the muscles, producing movement.

The gradual death of motor neurons in ALS means the brain's ability to initiate and control muscle movement.

Patients can become totally paralysed.

The ALS Association says there is no cure and the one drug available only "modestly extends survival".

The association has not said how it will spend its windfall, but its mission is to care for people with the disease and find a cure.

The ALS Therapy Institute says at any given time there are 450,000 people estimated to have the disease worldwide.

Maysam Yusef, a university student, started a Facebook page for the rubble bucket challenge, which is designed to highlight the plight of Palestinians in Gaza.

Journalist Ayman Aloul said he created the challenge to raise awareness that water is so scarce after Israeli bombing that it would seem ridiculous for Palestinians to be throwing it over their heads.

He said: "We looked for a bucket of water – however the use of water is more important than to empty over our heads.

"And even if the water is available it is difficult to freeze.

"And when we made the Palestinian version we looked around us we found the place destroyed.

"Therefore I decided to use rubble instead of iced water."

Ayman says the challenge does not ask for material aid, instead just "solidarity with the Palestinian cause".




DIRT

BUCKET

CHALLENGE

The dirt bucket challenge emerged in California as a protest against the fad of throwing water over one's head while the state is experiencing a drought.

Latest figures from the US drought map show that part of the United States is experiencing an "exceptional drought".

The duo who launched the spoof challenge said they had 'altered proceedings' in the light of California's lack of water.

They still urged participants to donate to ALS.

They added: "It took the same amount of time to shower afterwards as it normally would, no extra water needed. Most the dirt is on our clothes, and as you can see, we don't have much hair to wash!"



NO

BUCKET

CHALLENGE

Will Oremus, writing on slate.com, makes the case for not taking part in the ice bucket challenge.

He argues: "Yet it's hard to shake the feeling that, for most of the people posting ice bucket videos of themselves on Facebook, Vine, and Instagram, the charity part remains a postscript.

"Remember, the way the challenge is set up, the ice-drenching is the alternative to contributing actual money. Some of the people issuing the challenges have tweaked the rules by asking people to contribute $10 even if they do soak themselves. Even so, a lot of the participants are probably spending more money on bagged ice than on ALS research.

"As for "raising awareness," few of the videos I've seen contain any substantive information about the disease, why the money is needed, or how it will be used. More than anything else, the ice bucket videos feel like an exercise in raising awareness of one's own zaniness, altruism, and/or attractiveness in a wet T-shirt."

I would propose a #NoBucketChallenge, donate to ALS research anyway, and stop pissing water away.

— The Parking Lot (@ParkingLotPod) August 22, 2014







BULLET

BUCKET

CHALLENGE

Actor Orlando Jones poured a bucket of bullets over his head to highlight the situation in Ferguson, Missouri, where an unarmed black teenager died after being shot by police.

He said: "This week, I've watched an American city become something akin to a war zone. What's happening in Ferguson looks like a copycat because we've seen it in so many other cities around the world. It's an us-versus-them mentality. It all stems from a militarised police force threatening the right of people to assemble.

"I had a cross burned in my front yard when I was in the 6th grade. I grew up in the Deep South and I have a very intimate relationship with race. My father carried a gun. Did he carry it because he was some thug or anarchist or wanted to hurt people? No, he wanted to protect his family. For me, I became a member (of the NRA) because I wanted to affect change in the organisation. Do I share all of their ideals? No. I'm not a monolith in culture. I don't agree with all black people on everything either. I'm a complex person and I wanted to make that point."