Erdoğan's election leaves questions unanswered for Turkey's future
Comments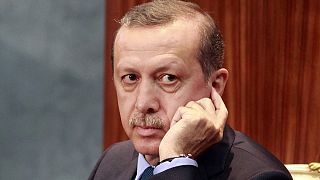 Recep Tayyip Erdoğan was the unsurprising winner in Turkey's first direct election for president; a post previously chosen by parliament.
In the last 11 years as prime minister, he has become arguably Turkey's most powerful democratic leader.
This victory opens the door for his avowed aim of reshaping Turkey and making it less secular, though analysts say he still faces many obstacles in that.
"This is the first step of this long-term presidential agenda," Sinan Ulgen, head of the Istanbul-based Centre for Economic and Foreign Policy Studies said.
"It is going to be a hugely difficult and uphill battle, even for an immensely successful and astute politician like Erdoğan," he added.
Amid low voter turnout by Turkish standards, there was a significant result for the ethnic Kurd candidate, Selahattin Demirtas, his participation possible since the government made peace overtures to the Kurds.
The victory was by a narrower margin than polls had suggested, although Erdoğan was still 13 points ahead of his closest rival – the main opposition candidate Ekmeleddin İhsanoğlu.
Despite getting 52 percent of the vote, Erdoğan remains a highly polarising figure and the past year has been particularly difficult.
Street protests, initially against the planned development of Istanbul's Gezi Park, grew into nationwide demonstrations.
At the same time the prime minister and his inner circle were also accused of corruption while moves to give the government power over top court appointments led to parliamentary protests.
There was further criticism of the round-up and sacking of police officers who were looking into alleged corruption in high places and of heavy-handed attempts to block the internet and social media.
Now his critics fear the president-elect could become even more powerful through changes to the constitution.
So, what does Recep Tayyip Erdoğan's win the presidential election mean for the future of Turkey, the AK Party and Turkey's political opposition?
For insight on that euronews spoke to writer Bekir Ağırdır, who also heads the KONDA Research and Consultancy firm in Istanbul.
Nezahat Sevim, euronews: "With this election result, the AK Party bids farewell to its leader and founder who's off to the presidential palace. What effect will this have on the AK party and it popular support? And who, or what kind of person, can be the next party leader and prime minister?"
Bekir Ağırdır: "There are three paradoxical issues facing the AK Party. Firstly there is the need for a prime minister and party leader, who should be compatible with Mr. Erdoğan. But the second requirement is that that person should be able to preserve the 45 to 50 percent vote that the AK Party has achieved. That way they can force changes to the constitution, after June 2015, which is what Mr. Erdoğan has long wanted.
"But those two things seem to be contradictory. And in addition there's a third requirement, which is also a paradox for the AK Party – which is that Turkey has many foreign policy issues. There is a need to upgrade, correct or change policy in that area.
"So when you look at these three requirements, then the names that look likely are people like Ali Babacan, Binali Yıldırım or Ahmet Davutoğlu. Though of course there could be some other surprise candidate."
euronews: "Before the election you said if Mr İhsanoğlu – the main opposition candidate – were to get 40 percent of the votes, the opposition won't see the need for a rethink, but if he only got 35 percent , the main opposition parties – the CHP and MHP – would have to make changes. İhsanoğlu's vote percentage was 38 percent. How does that effect the opposition? And how will Selahattin Demirtaş's performance reshape Kurdish politics?"
Bekir Ağırdır: "This magical 38 percent helps both opposition leaders. Likewise, as we see from the statements made by both parties – including from the leader of the MHP – they are likely to go on as before, without feeling a need for change. But there is still the reality that there are splits inside both of these parties, quite separate from the election results."
"The statements of the Kurdish candidate Mr. Demirtaş about democracy, freedom, human rights, which he characterised as "a call for a new lifestyle, radical democracy," has got cross-bench support also from the Turkish politicians, so they feel the need to listen to him.
Bekir Ağırdır: "I guess that the support for the HDP – the Kurdish Party – will be even higher in the June 2015 elections. All of the Turkish people who feel they are being treated unjustly, who want more democracy and freedom, can gravitate towards the HDP.
euronews: "Let's talk about what's being discussed for the presidential system. With regard to Erdoğan's view of the president's new role, what kind of radical changes we can expect in Turkey now?"
Bekir Ağırdır: "The AK party without Erdoğan may not have the capacity for radical constitutional changes, like changing the presidential system. They'll need to compromise with other parties. We can expect some changes after June 2015. But I don't know exactly what they'll be, whether it will be a change to the presidential system, or more comprehensive, deep-rooted changes to rights and freedoms, to all the state organs, including the legal system. We really can't guess right now, it will be all about the political compromises reached between the politicians."