Twenty-one confirmed dead in Indian mudslide
Comments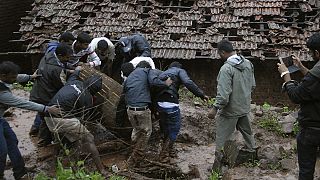 Twenty-one people are confirmed dead after a landslide buried the entire Indian village of Malin.
Workers and rescue teams have been desperately digging through swirling mud to find more than 100 people reported missing.
Video source: Youtube/DDNews

Poor communications in the remote area have hampered the relief effort as seven teams of 41 rescue workers struggle to get to the trapped victims.
The hillside above the village, situated 25 miles from the city of Pune in the Maharashtra state, collapsed after two days of heavy rain and the continued deluge has raised fears of another landslide.
Alok Avasthy, head of the rescue team, said: "We have mapped the 46 houses and are trying to remove the mud from the most densely populated areas."
Video source: Youtube/Zee news