Downey Jr tops actors' rich list but where are the women?
Comments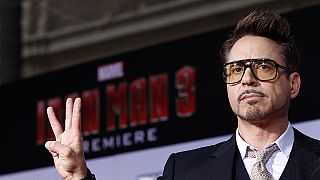 Robert Downey Jr. is the highest paid actor in Hollywood, according to Forbes magazine. Topping the list for the second year in a row, he has made 75 million dollars (55 million euros) since the summer of 2013 alone, almost all from Iron Man 3.
Next on the list is Dwayne Johnson, a.k.a. "The Rock". Fast and Furious 6 and Hercules helped him make a total of 52 million dollars (38 million euros) in the last year. The wrestling champion-turned-movie star may not be making the most artistic films, but he is bringing in the big bucks.
Bradley Cooper (46m$; 34m euros), Leonardo DiCaprio (39m$; 29m euros) and Chris Hemsworth (37m$; 27m euros) make up the rest of the top five earners of the last 12 months.
Missing from the top 10 this year are Brad Pitt, Tom Cruise and also: women. Angelina Jolie, the highest paid actress in Hollywood with earnings of (30m$) in 2013, would rank only 8th on the list of actors, laying bare the distinct gender gap in terms of actors' earnings. And it's not only the earnings that are unequal. A study of last year's Oscar nominees revealed that women receive significantly less screen time than their male counterparts
It's the action films that make the most money at the box office and if you're not wearing a cape or starring as a superhero, you can't earn top dollar.
When it comes to Forbes' list of 100 Most Powerful Celebrities, Robert Downey Jr ranks 10th. Making money certainly brings influence. But on this list it is a woman who reigns supreme: singer and icon Beyoncé is in first place. Maybe the first thing on her agenda as the most powerful celebrity can be fixing that pesky income gap.