UNITAID chief speaks about ending extreme poverty, tackling AIDS and innovative fund raising
Comments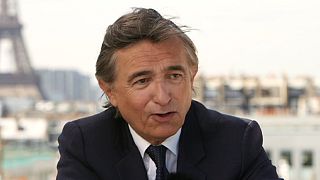 Philippe Douste-Blazy is a former minister in the French government and President of UNITAID. He wants to eradicate extreme poverty and raise awareness of the need to tackle AIDS in the world's poorest countries.
Dr Philippe Douste-Blazy, President
UNITAID
Dr Philippe Douste-Blazy is a champion and pioneer of innovative financing solutions to meet the growing shortfall in development aid. For example, he played a vital role in establishing a levy on aeroplane tickets. Here, a nominal sum is charged (1 euro on economy flight tickets) to the passenger and given to

UNITAID

to help fund its work.

UNITAID

was established in 2006 by the governments of Brazil, Chile, France, Norway and the United Kingdom to increase access to medicines in developing countries. It provides sustainable funding to boost availability of affordable medicines and diagnostics for

HIV

/AIDS, TB and malaria.
Before joining

UNITAID

, Philippe Douste-Blazy was a practicing cardiologist. He then moved into French politics and between 1993 – 2007 held several high profile posts including, Minister for Health, Minister for Culture and Communications and Foreign Affairs.
In this edition of The Global Conversation he shared his ideas and philosophy with Isabelle Kumar answering a series of questions with challenging answers.
"How can we ask a Greek, Italian, Spanish, French or American MP to donate more money? So we came up with a little idea called innovative financing: taking a tiny, microscopic and painless levy, for example one euro per plane ticket, which is donated to our organisation, UNITAID," he says on talking about how to raise funds in the fight to eradicate poverty.
"If I were 17 or 18 and I saw my brother, mother, father and little sister die because we didn't have 50 cents, because it only takes 50 cents to cure malaria and save a child, and I then learnt via the internet that you can have lunch in Paris for 40 euros, while my little brother died
because we didn't have 50 cents, well, if someone wanted to manipulate me, I think he could convert me to attack the West," was his contention on how poverty can act as a gateway to radicalisation.
He also talks about the future of his work and said: "I'm convinced that Apple, Google, Facebook and Twitter can invent micro-levies. We must stop this appalling speculative capitalism and return to social capitalism – to man, to life which is sacred. A child born in Bamako is as important as a child born in Paris. But the international community doesn't think so. They think that a child born in Bamako is worthless but a child born in London, Oslo or Paris, is important. But it's not true, they are the same."