Watch: Remarkable escape after barrier-jumping 4x4 is hit by oncoming train
Comments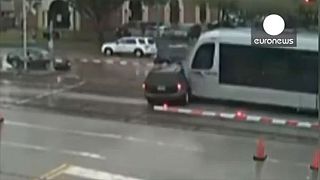 This is the dramatic moment a barrier-jumping 4×4 was rammed by an oncoming train in Houston, Texas.
Two adults and two children were taken to hospital for non life-threatening injuries.
The Houston Metro Police released surveillance video showing the driver crossing the gates on a red light trying to beat the train.
The SUV driver was fined for the incident.