German skydiver Diana Paris dies in bid to smash world record
Comments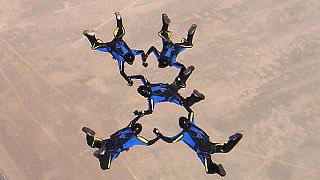 A skydiver trying to break a world record died when her main parachute failed, police said.
Diana Paris, from Berlin, was one of 222 trying to beat the record for the number of people completing two aerial formations before deploying their parachutes.
The 46-year-old was declared dead at the scene, near SkyDive Arizona, 105km south of Phoenix.
Organisers said in a statement on its website: "The malfunctioning parachute was released too low to allow the reserve parachute to fully open.
"The skydiver was participating in an invitational 222-Way world record attempt. However, the incident was not related to the size of the group nor were any other skydivers involved.
There were no problems related to aircraft, and weather conditions were good.
"The whole team met after this accident and amid the hugs and tears agreed to create a special jump, a missing man (sector) formation skydive, to honor their fallen friend.
It is alway a difficult decision for the organizers to make after a tragedy, but the team as a whole has decided to keep moving towards the record. However it will no longer be a two point 222-way. It will be a 2 point 221-way. Our dear friend can not and will not be replaced. The group will continue to hold the slot open in the skydiver's honour."
They were trying to break an earlier record, involving 110 skydivers, set last year in Florida.
Organizers said safety was foremost in their minds in their planning and execution of the complicated maneuver, an effort that had been 18 months in the making.
Skydivers were to be at an altitude of about 19,500 feet (6,000 meters) during the record-breaking attempt, with an average free-fall speed of about 120 miles per hour (190 kmh).
Footage of an earlier practice jump by the world-record bidding skydivers on Vimeo.
Under the plan, skydivers in multi-colored jumpsuits are taken aloft by 10 planes and have 80 seconds to complete kaleidoscope-like formations before opening their chutes.
Police said the husband of the deceased skydiver told them that she was an experienced jumper who had participated in 1,500 skydives.
Police spokesman Brian Jerome said in a statement the incident was being investigated by police and the Federal Aviation Administration, which would examine whether the parachute did indeed malfunction.
The accident marked the third skydiving death since December stemming from an attempt to break a record in the sport.
In the same facility last December, two skydivers were killed after colliding at a height of 200 to 300 feet (61 to 91 meters) and falling to the ground in what authorities ruled an accident.
Briton Keiron O'Rourke, 40, and Bernd Schmehl, 51, of Germany, were part of a group of 200 skydivers from another organization trying to break the double-formation record.