Washington plans to shrink US Army to smallest size since Pearl Harbor
Comments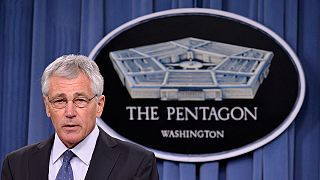 As the United States prepares to end its combat role in Afghanistan later this year, the US government is planning deep cuts into the nation's defense budget to meet 2015 spending caps.
Defense Secretary Chuck Hagel said on Monday the Pentagon recommended military-wide savings as part of a broad reshaping of priorities after more than a decade of war in Afghanistan and Iraq.
Hagel proposed shrinking the Army to its smallest size since the buildup to American involvement in World War II, closing military bases and cutting the Air Force's entire fleet of A-10 Warthog attack jets.
Other measures include decommissioning a batch of Navy cruisers, curtailing the Navy's littoral combat ship program and reducing the subsidy for troop commissaries.
According to Hagel, these cuts are designed to balance postwar defense needs with budget realities, even as the United States faces a more volatile, more unpredictable world that requires a more nimble military.
He outlined his proposals a week before President Barack Obama is to submit his 2015 budget plan to Congress.
Under the Hagel plan, which Congress could change, the active-duty Army would shrink from its current 522,000 soldiers to between 440,000 and 450,000. That would make it the smallest since just before the US entered World War II after the attack on Pearl Harbor in December 1941.
Instead, Hagel proposes injecting more money into changes defense officials say will make for a more adaptable and innovative military that is better ready to respond to changing threats.
The Pentagon wants to pare back the size of the active-duty military by 13 percent and the reserve force by 5 percent, but is looking to boost the size of Special Forces by nearly 6 percent by adding about 3,000 personnel to the kinds of teams that killed Osama bin Laden in Pakistan, rescued an American aid worker in Somalia and freed US commercial sailors captured by pirates off the coast of East Africa.
The budget also shows the military also investing in programs dealing with cyberthreats stemming from China.
In addition to the axing the A-10 Warthog fleet, the Air Force would retire its fleet of 50-year-old U-2 spy planes in favor of Global Hawk surveillance drones, Hagel said.
The decision to depend on drones reverses a previous attempt by the Pentagon to keep the U-2s instead and comes as the Defense Department "has been able to reduce the Global Hawk's operating costs," Hagel said.
Whether Hagel's plan will be approved by Congress remains to be seen. His proposal for a smaller army met immediate resistance.
"It's going to be Congress's job to step in and move those numbers up," Michael Turner, a Republican member of the Armed Services Committee of the House of Representatives, said on Bloomberg TV. "The world is not getting to be a safer place. This is not the time for us to begin to retreat, and certainly not the time to cut our military."