Lebanon arrests suspect behind latest bombings
Comments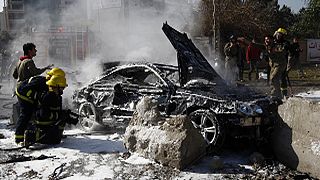 Lebanese security forces announced on Friday the arrest of a top suspect behind Wednesday's twin suicide bombings near the Iranian cultural centre in Beirut's southern suburbs.
According to the Lebanese authorities, Hassan Abu Afleh, a Sunni Muslim militant, is suspected of being a leading figure in the Abdullah Azzam Brigades – a Sunni translocal jihadi movement that has claimed responsibility for the double-bombings on Wednesday, as well as the attacks on the Iranian embassy in November.
Abu Afleh is also suspected of recruiting suicide bombers and putting together car explosives.
He was arrested in a predominately Sunni district in Beirut, said the security services. His detention was not announced earlier due to the ongoing investigation.
A series of other arrests in relation to the bombings have been made since November. Abu Afleh's capture followed last week's detention of Naim Abbas, another leading hardliner, who is allegedly affiliated with the Islamic State of Iraq and the Levant – another militant Sunni group that is fighting in Syria.
The spillover from the almost three-year-old conflict in Syria has aggravated sectarian conflicts inside Lebanon, posing an even greater hurdle for the new Lebanese government, which assumed office on Saturday.
The string of attacks on Iranian interests in the country and on Hezbollah's strongholds come as a punishment for their support for the Assad regime in neighbouring Syria.
The Abdullah Azzam Brigades claims on its Twitter account, which has since been suspended, that it will continue to execute such attacks until the two parties completely withdraw from Syria. The group also demands the release of all jihadists from Lebanese prisons.
Reuters