Pope's Twitter account in Latin hailed as 'Magna felicitate'
Comments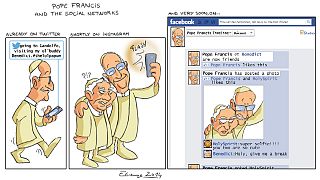 To the surprise of many, the Latin-language Twitter account of Pope Francis @Pontifex_ln is growing fast, having attracted more than 210,000 followers in a year.
Since the former Pope Benedict became the first pontiff to tweet a couple of years ago, there's been a sense of carpe diem for the Vatican when it comes reaching out to people through social media.
Francis already tweets in eight languages but no one really expected an account in a so-called dead language like Latin could become such a success. In fact, the profile now boasts double the followers of the Arabic and German versions.
One of the men who helps translate the Pope's tweets into the ancient tongue is American priest Daniel Gallagher. He told AFP that Latin is "an international language, a transnational way of communicating which is still very much alive". He added that, for its fans, the language represents "virtue and nobility of expression" but admitted that the messages are difficult to translate because of Francis' informal style.
The Latin account opened a bit more than a year ago and has since gained followers from a variety of backgrounds: from academics and religious scholars to young students and people nostalgic for the lessons of their youth.
For some, the account is something of an exclusive club, a place to practice and show off such rare language skills. Many of the followers reply to the tweets in Latin and take pleasure in the challenge of translating Francis' 'phrase-a-day'.
Some say that the short, concise structure of Latin makes it a perfect match for Twitter's 140 character rule. Gallagher offered a good example of the language's handy brevity with the sentence "Omnia promittis cum tota nocte bibisti; mane nihil praestas. Pollio, mane bibe". Which apparently translates as: "You were making all kinds of promises when you drink at night, you're just a little tipsy and say whatever you want, but in the morning, you don't follow through, so Polio why don't you drink in the morning?"
One follower, Isabelle Poinsot from Paris said: "It's comforting to receive fragments of pure thought on a daily basis, and I find his blend of modernity and antiquity through the medium of language delicious".
For those with Latin language skills, a small challenge – the latest tweet from @Pontifex_ln
Movet saeculum ut nos opesque nostras et respiciamus voluptates. Monet Evangelium caeteris ut recludamus nos cum egenisque nostra partiamur.

— Papa Franciscus (@Pontifex_ln) February 6, 2014