UK: Police in a flap over learner driver's pet parrot
Comments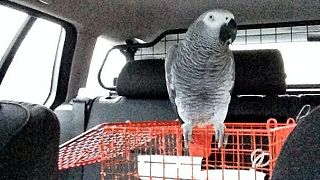 Police in England stopped a learner driver – because she was accompanied by just a pet parrot.
It's illegal in the UK for a learner to drive, unless they have a qualified motorist alongside them.
Officers in West Yorkshire stopped a woman on the M62 after spotting a parrot alongside her.
They confiscated her car and charged her with motoring offences.
A police spokesman said: "Provisional drivers are only allowed to drive while accompanied by a qualified driver and are not supposed to drive on motorways at all."
Chief Inspector Mark Bownass of West Yorkshire Police said: "The rules of the road exist for a very good reason and it is important to remember that if this lady had been in a crash or incident she would not have been covered by insurance as she was not licensed for the journey.
"Anyone who takes to the roads as a learner must be accompanied by a qualified driver, have a good understanding of the Highway Code and also make sure they are covered by the qualified drivers insurance policy."