Iran's President Rohani on Syria's 'terrorists', change and opportunities
Comments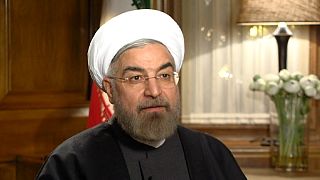 Iranian President Hassan Rohani attended the World Economic Forum, just days after an important deal with world powers on Iran's nuclear programme came into effect.
In this edition of Global Coversation euronews' correspondent in Davos, Isabelle Kumar, interviewed President Rohani about the economic and political situation in Iran, and his government's support of the regime in Syria.
Isabelle Kumar, euronews: "President, many thanks for joining us on the programme. Your visit to Davos is historic: it's your first visit to Europe as a head of state; the first visit of an Iranian president to the World Economic Forum in 10 years. You are coming here after many years of mistrust and you are meeting world leaders in business and politics: what are you saying to them?"
President of Iran, Hassan Rohani: "I too thank you and your television network for this opportunity. Davos is a very important forum. This is not a European summit, it is a global summit in which everybody takes part: from Asia; Europe; and other continents. It is important that different viewpoints, particularly economic ones, are put forth in this summit and this in turn can bring people's opinions closer to each other. I came to the World Economic Forum to explain the new circumstances in Iran to its participants. I also wish to share Iran's economic, political and cultural situation after the recent [presidential] elections and tell them about the future landscape of our country. That way, everybody will know that the current backdrop in Iran is suited to economic activities and Iran is ready to welcome entrepreneurs and big economic companies."
euronews: "And of course, with Davos underway there are also very tense negotiations, also in Switzerland, about the future of Syria. Your invitation – Iran's invitation – to those talks was withdrawn: what was your reaction to that?"
President Rohani: "Firstly, we consider it our human duty to do what we can to prevent the bloodshed in Syria and to assure the well-being of the Syrian people. Stability in the region is very important to us and the civil war in Syria is not something to be tolerated. But, regarding the invitation, we are ready to take part in any gathering that aims to help the Syrian people. I am disappointed about what happened. Not for ourselves or for Iran, I am disappointed for the United Nations and the Secretary General of that organisation, because of the damage done to their credibility. In the meantime, we consider it our duty to do everything we can to help the Syrian people."
euronews: "Will there come a point, because we know that the Syrian regime is linked more and more to human rights abuses – grave human rights abuses – will there come a point when Iran questions its support for Bashar al-Assad and his regime?"
President Rohani: "It is not a discussion about Bashar al-Assad. Today, many dangerous terrorist groups are in operation in Syria. This is a danger to the whole region. It's even dangerous for those who are supporting these terrorist groups today.
"What is important in Syria is not the issue of Bashar al-Assad, it is the issue of civil war. We should all work hard to isolate terrorism. We should all work towards putting an end to the civil war in Syria. The future of Syria belongs to the Syrian people. We will respect the view of the majority of the Syrian people, whatever that may be. No foreign official or government can or should make decisions for the Syrian people.
"Everybody should help the Syrian people. Everybody should help provide suitable circumstances, so the Syrian people feel comfortable enough to express their vote and their opinion about the future of their own country."
euronews: "Things have changed dramatically for Iran since you've been in power. Bridges are being mended again, thanks to the beginnings of a deal over your nuclear programme, and the partial lifting of sanctions. Paint me a picture of the Iran you would like to see in 10 years time."
President Rohani: "Firstly, I would like to say the change that is felt in Iran today is not a change that this government has brought about. This government has started its work in the atmosphere of change that the people have created.
"The recent elections created a new atmosphere. They opened the door towards interaction with the world. This chance is an opportunity for everybody and they should use the opportunity that the Iranian nation has created. I am pleased that in the past five months, with the efforts of this government and the countries involved in the negotiations, circumstances enabled us to take our first successful step.
"We are committed to the obligations set out by the Geneva agreement as long as the other side is committed. We are fully ready to take the final steps regarding the nuclear programme. The situation in Iran today is such that it has provided the groundwork for further interaction with other countries: both with nearby countries and with the rest of the world.
"We used to have very important traditional and historical relations with Europe. Today, the foundations are laid and we're ready to make a return to those historical relations. What happened in previous years in the name of sanctions – illegal sanctions – was damaging to all sides. It was a road leading to a dead-end. Everybody discovered that it was the wrong way to go. The right path was to negotiate, which was a path both sides rightly chose.
"I think the future of Iran is very bright. Iran has a very special strategic position, particularly regarding resources and mines. When we look at human development, our country has highly-educated people. Today, Iran has 4.5 million university students.
"Therefore, the environment in Iran is fully ready for constructive interaction with other countries, including Europe, and I hope that ourselves, Europe and other countries grasp this opportunity.
"Taking this chance will be beneficial for both sides' governments and their nations: for Europe, Iran and other countries who are ready for constructive interaction."