Bridgegate to Sandygate: new allegations against Chris Christie
Comments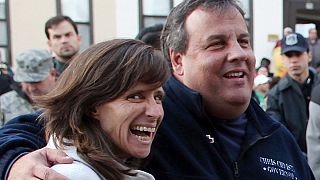 The political scandal engulfing New Jersey governor and Republican frontrunner for the 2016 US presidential election, Chris Christie, is steadily growing. The latest allegations: Christie's administration tied relief funds for Hurricane Sandy to the approval of a major development project close to the governor's heart. A claim that was vigorously denied on Monday by Christie's administration.
But the allegations are now part of a federal investigation and have intensified scrutiny of Christie's alleged strong-arm tactics when it comes to the treatment of public officials further down the political food chain.
His administration is already in the middle of the "bridgegate" scandal, sparked by allegations that the governor's team engineered a massive traffic jam on a busy bridge as political payback against a local mayor.
In the latest twist of the political storm, the Democratic mayor of Hoboken, Dawn Zimmer, sent new shockwaves through New Jersey by basically accusing top Christie officials of having tried to blackmail her.
Appearing on a Saturday morning MSNBC news program, Zimmer said administration officials told her multiple times that Sandy funds for hurricane-hit Hoboken would not be approved, unless the mayor helped fast-track a new development in her city.
The project was a three-block redevelopment effort including a 40-story office tower by Manhattan-based Rockefeller Group, a global real estate business that has close ties to Christie.
According to Zimmer, New Jersey Lieutenant Governor Kim Guadagno approached her on a parking lot before an event and threatened to withhold federal funds that could have helped the city to recover from Hurricane Sandy. Hoboken, the birthplace of Frank Sinatra, lies across the Hudson River from Manhattan and was badly flooded by Sandy in late 2012.
On Sunday, Zimmer said that she just met with federal prosecutors who are now investigating her claim. Zimmer said she met with lawyers from the US Attorney's New Jersey office in Newark and gave them diary entries and other documents that she said supported her allegations.
Zimmer said although she had asked for around $100 million, Hoboken had only received around $340,000 in Sandy aid from the state. Christie's camp said the Sandy-devastated city actually got some $70 million, but Zimmer said Sunday that was flood insurance money that had nothing to do with the recovery funds controlled by the governor.
Also on Sunday, New Jersey Assemblyman John Wisniewski, a Democrat leading the probe of the closing of lanes onto the George Washington Bridge last September in retaliation for the decision by Fort Lee Mayor Mark Sokolich not to endorse Christie for re-election said he would also examine Zimmer's allegations.
"We have to give the allegations serious thought, because it is a pattern that we've heard time and time again throughout New Jersey. The committee needs to look at the facts, hear her story, look at the emails, and consider where we go next," Wisniewski said on NBC's "Meet the Press."
In a rare public appearance before state and national media on Monday, New Jersey Lieutenant Governor Guadagno, Christie's second-in-command, denied Zimmer's allegations. "Any suggestion that Sandy funds were tied to the approval of any project in New Jersey is completely false," she said, adding, "Being a Sandy victim myself makes the mayor's allegations particularly offensive to me."
Meanwhile, these allegations, while still unproven, have taken a toll on Christie's political prospects. As the head of the Republican Governor's Association (RGA) heading into the 2014 election cycle, Christie is responsible for raising funds to elect Republican politicians to statewide office.
According to reports, the notoriously squeamish Republican donor class is getting cold feet about associating with Christie, making success in his role as the RGA's figurehead very difficult. To say nothing of Christie's 2016 prospects, his efficacy as a potent figure in the Republican Party today has been cast into doubt.
Christie was in Florida this weekend at private finance events with Republican Florida Governor Rick Scott, who is up for re-election. The events, hosted by Home Depot co-founder Ken Langone, were billed as meet-and-greets with party donors, not fundraisers.
Langone told Politico Magazine there were 200 people at his home and 750 people at the larger forum at the clubhouse in his development, more than at a previous event with former Vice President Dick Cheney.
Langone added that Christie said he is "redoubling" efforts to make clear to his team that government is there "to govern, not to torture or to torment."