Former rebel mayor of Colombia's capital removed from post
Comments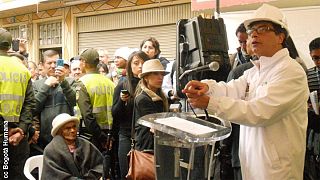 The leftist mayor of Colombia's capital was removed from his post on Monday for the
mismanagement of garbage collection and banned from holding office for 15 years, a blow to the nation's left as peace talks continue with Marxist FARC rebels.
The inspector general ruled that former guerrilla Gustavo Petro, who as Bogota mayor held Colombia's second-most powerful political post, badly handled changes to waste management in the city of 8 million people, creating a health hazard as rubbish piled up on the streets last year. The ruling can be appealed.
Petro, 53, once a member of the now-defunct leftist M-19 rebel movement, called the decision a coup and quipped that he would not be able to hold office again until he was 68 years old.
Movilizaciones en Bogota en apoyo total al Alcalde Gustavo Petro #PorlaDemocracia#PetroSeQuedapic.twitter.com/55bMSxGiMq

— Maria (@MariaCanoUN) December 9, 2013
"It's a life sentence," Petro said. "Here a message is being sent to the nation, to all mayors, that attempts to take back public power is a crime, a felony or an irregularity."
Addressing thousands of supporters from the balcony of the mayor's office overlooking the central Plaza Bolivar, Petro called for peaceful protests on Tuesday against the decision.
La suerte de Bogotá Humana solo depende de la Movilización Popular, pido que sea pacífica

— Gustavo Petro (@petrogustavo) December 9, 2013
The ruling is a setback for the political left in Colombia just as progress is being made in peace talks with the FARC to end five decades of war in the Andean nation, and it came five months before presidential elections.
Petro's election as mayor in 2011 was seen as proof that politics was the way forward for rebel movements. The FARC, or Revolutionary Armed Forces of Colombia, reached agreement with the government last month on how they would be incorporated into the political system.
"Here we begin a democratic and peaceful revolution," Petro said, urging the FARC leadership to continue its year-long negotiation to end the war and accusing the right-wing inspector general, Alejandro Ordonez, of being against the peace process. "Be aware, these are historic days, this is not just another protest."
While Petro's popularity has slumped over the past year, many see Ordonez's ruling as damaging to the country's institutions. "This is terrible for democracy, it's political manipulation," said Arcangel Lopez, as he squeezed orange juice at a cart on a Bogota street corner. "Each time a politician does something for the people, they throw him out of office."

Video by Sebastian Krapp, photographer
Justice Minister Alfonso Gomez Mendez questioned whether the constitution should allow an official to remove another elected by popular vote. President Juan Manuel Santos said he respected the ruling as well as Petro's right to appeal.
It was not clear how long an appeal would take or when new elections for mayor could take place.
Petro, an economist and former congressman, ran a city with an annual budget of about $7 billion. Ordonez, the inspector general, said he had damaged free competition by giving a state company the contract to collect garbage.
Jailed for his rebel activities in the 1980s after joining M-19 as a university student, Petro was among the most vocal legislators in denouncing corruption and congressional ties to right-wing paramilitaries.
Reuters