US authorities recognise 3-D firearms pose a threat to public safety
Comments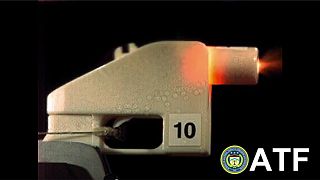 Following concerns that firearms made using 3-D printers could evade metal detectors with disastrous consequences, the US Bureau of Alcohol, Tobacco, Firearms and Explosives (ATF) was commissioned to test the technology.
The tests, recorded on these videos, and presented wednesday, focus on the 'Liberator' gun design, created by Cody Wilson, an University of Texas law student. Wilson created a stir in May, when he uploaded instructions for producing the 3-D handgun, posting a video on Youtube firing his new plastic gun.
According to the ATF, the tests showed that the weapon could penetrate several inches of soft flesh as well as a human skull.
Such weapons "create a public safety concern for the American public because (they) can defeat metal detection," said Richard Marianos, ATF assistant director for public and governmental affairs.
The annoncement of these tests results occurs less than a month before expiration of the 1988 law that forbids the manufacture and possession of plastic firearms such as those produced by 3-D printers.
As they contain no metal, guns produced by 3-D printers are relatively easy to sneak through a metal detector.
Weapons made from 3-D printers also pose a risk to the shooter. As the ATF-produced video shows, one version of the "Liberator" exploded after a remote pull of the trigger.