Successful Italian drug rehab centre wants to go American
Comments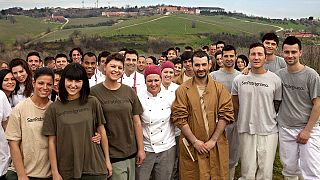 It was the magic number that the assembled experts at the World Bank impressed most: 72%. That is the follow-up success rate for drug addicts who completed the San Patrignano long-term program. Compare that with US institutions which usually have success rates lower than 30%.
The representatives of San Patrignano in northern Italy came to Washington to give a presentation of their mission, principles and therapeutic program and to raise awareness of a model that is free and that works. They also want to find partners in order to eventually open a similar centre in the United States.
"Most rehab programs in the US are very short, like a month, don't work and are very expensive", says Letizia Moratti, president of the San Patrignano Foundation and a former mayor of Milan. "That's why are seeking to promote our model." The experts at the World Bank briefing listened receptively.
The San Patrignano community near Rimini is the largest drug rehabilitation centre in the world, providing individualized drug treatment to young people completely free of charge, earning its income from the wide variety of award-winning enterprises it has set up which provide those being rehabilitated with job training, and a sense of meaning and dignity.
Since its foundation in 1978, more than 25,000 people have been in the long-term residential rehabilitation program (usually four years) and successfully treated. Right now, there are 1,300 residents.
These residents are offered a home, healthcare, legal assistance, and the opportunity to study, learn a job, change their lives and regain their status as full members of society.
San Patrignano also makes a concerted effort to help residents acquire a professional certification or diploma that is recognized by the regional government in Italy. Nearly half of the rehab facility's residents received a degree and an impressive 96% found full-time employment upon leaving San Patrignano.
This year, the community stepped up efforts to raise awareness in the United States. From May to September, an exhibition of high-end furniture and décor that rehabilitated members from San Patrignano created alongside leading architects and designers (among them Daniel Libeskind, Chiara Ferragamo and Arnaldo Pomodoro) made its way from the New York Design Week to major cities across America.
Last Sunday, six former drug addicts representing San Patrignano formed an unusual running team at the New York Marathon. That legendary competition is a way for the runners to pursue a dream, but there are other benefits. "We also hope that the visibility of the New York Marathon could make our community known and available to other people in need all over the world," said Letizia Moratti.