Michael Barnier says creating free trade deal with US could take three years
Comments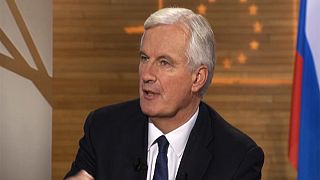 A drive to create the world's largest free trade zone could take up to three years, it's been claimed.
European commissioner Michael Barnier, in an exclusive interview with euronews, called for the agreement to be "fair, free and balanced".
Barnier, commissioner for internal market and services, said the discussions were complex and could take one, two or even three years to complete.
Direct tariffs on goods and service are already low between the US and Europe, but there are other barriers – such as regulatory and safety standards – that, if lifted, could reduce the costs of doing transatlantic business.
In a wide-ranging interview Barnier:
rejected the idea of centralising the pension system or having a minimum pension, saying "Brussels can't get involved in everything".
called for finance markets that work for the economy, not for themselves.
backed a suggestion of creating a rating system for banks.
said the "arsenal of regulation" would make banks "more robust" and warned "If we need to consolidate banks, we will; and if we need to go further, we will".
called for the single market to work as well for small business as it does for bigger firms.
hit back at eurosceptics saying people should act and change things if they don't like something.
revealed 9 million Europeans, including students, have been refused a bank account
said the idea e-commerce is killing traditional commerce does not "necessarily go hand-in-hand".
claimed austerity was a result of bad management and irresponsibility by member states.
discussing minimum social standards, said we must go further than what already exists.
stopped short of backing an EU-wide internships programme, but said it was logical they should be paid.
The interview with Barnier was the culmination of a special month on the single market, which has seen the European Union ask for views on the issue.
The debate has focused on four main themes around the economic crisis: employment, social rights, banking and e -commerce.
The single market , established in 1992, involved 345 million people in 12 countries. It has open borders for people , services and goods. The single market then was responsible for about €800 billion of trade.
Today, 28 countries are part of the single market , which now includes 500 million people . It generated €2,540 billion of trade in 2010.