Cécile Kyenge on racist attacks and obstacles to change
Comments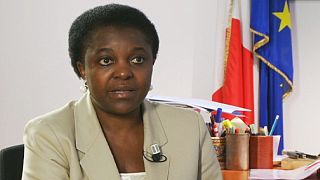 Cécile Kyenge has been the Italian minister in charge of integration since the end of April.
Despite that – or perhaps because of it – she made headlines around the world when she became the target of racial attacks after her appointment.
The abuse came from the highest levels. The vice-president of the senate – a member of the Northern League – compared her to an orangutan. She has received death threats, insults, and bananas were thrown at her at a rally.
Born in the Democratic Republic of Congo 49 years ago, Cecile Kyenge arrived in Italy in 1983 to study medicine. She had hoped for a scholarship, which she didn't get straightaway. So, for a year, she lived in Italy illegally, and to fund her studies she did a variety of jobs.
She was a model student, and sailed through her studies.
In 1994, she married an Italian engineer and became a full Italian citizen.
Euronews reporter Cecillia Cacciotto spoke with Cécile Kyenge and began by asking: "After these racist attacks where you were the target, you are the best-known Italian minister in the world. How have you coped with all of that?"
Cécile Kyenge replied: "It's not easy. Since my appointment I have suffered racist attacks every day. I don't consider these to be attacks on me personally, but rather attacks on the institution that I represent.
"At the same time, it is a major experience. This difficult part of my life is always in my mind. My goal is always the same – to support others."
euronews: "You chose Italy because you loved the country. As a minister, have you found Italy to be more backward?"
Cécile Kyenge: "Many things happening today are not due to the fact that Italy is racist, but because Italy is experiencing a time of change, which has not been supported by good policies or communication that explain the phenomenon of migration, but most of all by education based on Italian history."
euronews: "You have received the full support of the government and the full support of Prime Minister Letta and President Napolitano. Did you expect anything more?"
Cécile Kyenge: "That is a difficult question. This is the first time that Italy has had a minister from abroad, so it's the first time that Italy has faced this problem."
euronews: "Would have wanted the vice-president of the senate to resign?"
Cécile Kyenge: "That's not for me to say…."
euronews: "I'm not saying 'Minister Kyenge' but you, Cecile Kyenge, would you have liked that?"
Cécile Kyenge: "I would have liked… but in the end it was his decision… nobody should impose that. Change starts like this. Someone takes a decision, but can reverse it."
euronews: "Are Italians racist?"
Cécile Kyenge: "There are some, but not everyone is racist, otherwise I would not have had the opportunity to live the life that I have."
euronews: "Have you ever regretted taking the job of integration minister?"
Cécile Kyenge: "No, never, not even for a moment."
euronews: "Have you ever thought of leaving the government?"
Cécile Kyenge: "No, there are always people who take things forward, but no-one should be put ahead of the cause. Everything should be sacrificed for the cause, sometimes even yourself."
euronews: "Your appointment is very symbolic – the danger is that it remains just symbolic – because your ministry is a ministry without portfolio. Do you think that could be an obstacle, given the limited means at your disposal?"
Cécile Kyenge: "No, I think that sometimes changes can be made with few resources. Sometimes you can bring about change by working properly between ministries."
euronews: "The right for children of immigrants born in Italy to have Italian nationality, and decriminalising clandestine immigration are your priorities. Three months after taking over, what have you done?"
Cécile Kyenge: "Children born to couples living in Italy for 3-5 years are born in the same hospitals, go to the same schools and the same sports halls as other Italian children. They've already begun a life that's different to their parents.
It is a facility to access citizenship. That is the question the government is working on today. Almost 20 proposals of law have been presented at the ministerial level.
My ministry has worked on simplifying the procedure to obtain nationality. Among the measures, there is the possibility to prove that you live legally in the territory, not only with a residence permit, but also with other documents… like being on a school roll for example."
euronews: "Italy is capable of great gestures of generosity, but at the same time Italian immigration policies are often subject to strong criticism and complaints at a European level. What is Italy's true face?"
Cécile Kyenge: "Italy at the moment is trying to change the face of its migration policies, thanks also to the approach that my ministry is using to deal with certain problems. The fact that we have an Integration Ministry is a key point for the country."
euronews: "Do you think that Italy is having to deal with the influx of immigration on its own? Is the absence of a European immigration policy a problem?"
Cécile Kyenge: "The fact that Italy is alone is down to the European legislation, which says that a citizen who arrives in Italy, for example, must ask for asylum in Italy. That's what we have to change. If someone arrives in Italy they are in the Schengen area of free movement. That's the issue we must work on, to resolve these problems with a different approach."
euronews: "What kind of approach do you envisage?"
Cécile Kyenge: "Quite simply, to respect the Schengen area."
euronews: "After the first 100 days of the Letta government, many people don't think it will last. The prime minister is confident though. Is that a feeling shared by members of the government, or not?"
Cécile Kyenge: "Yes, we share that optimism. Some thought that we would not even reach 100 days! Now, we've passed 100 days, and that's an important step."
euronews: "Do you look back fondly on your former life in medicine?"
Cécile Kyenge: "Yes, and this is my first chance to say hello my patients."