Major fire in Berlin-Kreuzberg destroys popular concert hall
Comments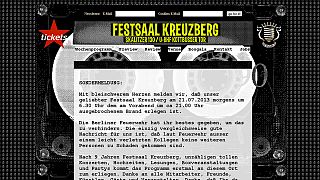 On Saturday evening a huge fire burned the popular concert hall "Festsaal Kreuzberg" down. Public authorities are now investigating the cause of the blaze.
In Skalitzer Street, Berlin, one can only guess that a conflagration had taken place earlier in the weekend. The odour of smoke still fills the street, where the former festival hall had been situated.
At 9 pm. the fire-department received an emergency call and arrived soon after with 300 firemen.
Sven Gerling, spokesperson of the fire department, however stated, that they were facing difficulties entering the burning building. Apart from two doors at the entrance, there was only a small loop at the back of the building. "Hot air could neither get out nor could we get in", said Gerling. The temperature of the fiery 300 square-meter building was measured up to 800 degrees Celsius.
Fire-fighters tried to drill a hole into the roof, but the thick concrete wall prevented this attempt to enter.
Due to arduous conditions, firemen had to work in shifts and be exchanged every fifteen minutes. About 75 firemen were working simultaneously. For several hours fire-fighters tried to stop the blaze.
Smoke emission was so severe that the underground-station "Kottbusser Tor" had to be closed.
Luckily, the neighbouring houses could be spared. But the famous concert location was completely destroyed, only the outer walls of the building remain. Merely two people were injured during the fire: a firemen broke his wrist and an actor suffered from smoke poisoning. At the time of the outbreak of the fire, hardly anyone was at the festival site. Two hours later, a concert was meant to take place. The organisers expected about 700 guests.
The cause for the blaze remains unknown.