Morocco aims for a 21st century education system
Comments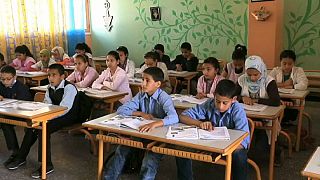 What do Moroccan students think of their education system? Is there really an education crisis in Morocco? And what is the government doing to end illiteracy, improve educational access for girls and women, and overcome language barriers in this multi-cultural society? Learning World went to Morocco to see how high illiteracy rates, low female attendance, and language barriers are being tackled.
Higher education challenges
Frustrated by high unemployment rates, young Moroccans have taken to the streets to demand educational reform. So what are the problems? And how are some universities working to help their graduates get jobs? We speak to some students.
Preserving Amazigh
In any multi-lingual society, language can be a barrier to education and this is an especially sensitive issue here. The government has launched a nationwide plan to tackle the problem; so now the country has two official languages – one of which is Amazigh.
On the streets of Morocco one hears Moroccan dialect, French, Spanish, Arabic or Amazigh, the Berber tongue. That reflects the mixture of different cultures or powers that once ruled the country.
Despite the multicultural nature of its people, officially Morocco is an Arab Islamic country and Arabic was the only language of state and schools until 2011 when the Amazigh, believed to be the indigenous people, succeeded in making their language a second official one, taught in schools and used in all government documents.
A chance for girls
Despite moves to protect women's rights, female illiteracy and high drop -out rates are probably the most serious problems facing Morocco's education system.
Social pressures and poverty also contribute, but for many girls in rural areas schools are just too far away. One NGO is trying to help.
Despite the praise Morocco has earned for women's rights, social pressures on girls are still very common in some conservative communities, particularly in rural areas where boys have the priority to go to school and girls are kept at home either to help in family chores or raise their siblings.
Girls lagging behind their male counterparts in education is part of the larger problem of illiteracy in Morocco which is still at 45 percent according to government statistics.
Well, what do you think? Have you got any suggestions on how to improve the education system in Morocco? Do not hesitate to share your ideas on our social media pages, and for more information on education in the country, check out the links below.
Useful links:
http://www.telquel-online.com-
http://www.ibe.unesco.org (Pdf)