Detained Iranians receive Sakharov Prize
Comments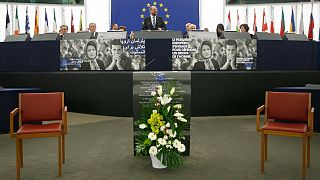 Iranian dissidents Nasrin Sotoudeh and Filmmaker Jafar Panahi have been presented with the Sakharov Prize in absentia at the European Parliament in Strasbourg.
Both recipients are currently being held by the authorities in Iran.
The honour is awarded by the EU for dedication to the defence of human rights and freedom of thought.
Martin Schulz, the president of the European
Parliament, said: "With the Sakharov Prize 2012 the European parliament honours the extraordinary efforts of Nasrin Sotoudeh and Jafar Panahi in the fight for human dignity, for basic civil rights and for political change in Iran."
Five chosen representatives collected the award on behalf of the winners. Nobel Peace Laureate Shirin Ebadi spoke for jailed lawyer Nasrin Sotudeh.
"These two empty chairs symbolise the behaviour of the Islamic Republic's regime towards its citizens during its 30 year reign of repression," she said.
The health of Nasrin Sotoudeh is a major concern following her recent 49-day hunger strike. She staged the protest in defence of her husband and children who are constantly harassed by the regime.
The question is can awards such as the Sakharov Prize bring any pressure to bear on authoritarian governments bent on crushing any form of dissent.
Karim Lahidji, the president of the Iranian Human Rights League, said: "This is a message of solidarity from the European Parliament as a representative of the people of Europe to the Iranian people who tried in 2009 to ensure that democracy is restored in Iran. During the huge demonstrations in 2009 people were harassed and crushed. Sadly hundreds of these protesters are still in prison. It is a message of solidarity and recognition of the fight for freedom and human rights in Iran."
Finnish Green MEP Tarja Cronberg believes the Sakharov Prize has already had an impact on the regime in Tehran.
"Nasrin Sotoudeh, a human rights lawyer who was on hunger strike, she wanted the Iranian regime to drop investigations into her daughter to end and a travel ban on her lifted. The Iranian authorities agreed so her hunger strike is now over," she told euronews.
Greek born French filmmaker Costa-Gavras has championed the cause of Jafar Panahi. The Iranian director gained international recognition in 1995 when his movie "The White Balloon" won the Golden Camera award at the Cannes Film Festival:
"This is an award for his predicament and his talent. We want the Iranian government to show him a little more respect. He has been sentenced to six years in jail and banned from filmmaking for 20 years," Gavras said.
"He is forbidden to write and banned from contact with journalists or any media. At anytime the police can turn up and drag him off to jail because his sentence is still pending. But this comes with a price for them, the prize brings a global light, certainly a European one and I think it will help protect him."