Jakob Kellenberger, head of the International Committee of the Red Cross
Comments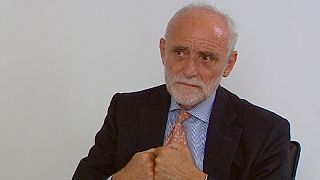 Anna Miranda, euronews: War, armed conflict, torture, catastrophe… how to alleviate human suffering? Is humanitarian diplomacy gaining in efficiency or losing? Jakob Kellenberger, thanks for being with us. You've been at the head of the International Committee of the Red Cross for twelve years, a role for you which is coming to an end a few weeks from now. As someone who knows the situation in Syria better than anyone, at this stage of conflict, what concerns you the most?
Jakob Kellenberger: I was the only head of a humanitarian organisation who had been to Damascus three times in nine months, so I am personally deeply involved. The Red Cross being the only international player on the ground, and having increased the area of its operations and staff, means its needs have also increased, again, and I am afraid this will continue – that we don't, by any means, see the violence ending.
euronews: However things do develop, the Syrian conflict has exposed the complexity of the relations between countries in the United Nations Security Council. Do you think the UN needs extensive reform to make it easier to act?
Kellenberger: No, I don't have…
euronews: On the Syrian question, specifically.
Kellenberger: No, but…
euronews: Are we facing a major diplomatic failure?
Kellenberger: Well, it should be said that what we call the Annan Plan, which laid out a cease-fire followed by a political dialogue between the parties concerned, was basically, I find, a good plan. Now, you are right – when we see the cease-fire violations and never really know who is responsible, I would say that the most probable alternatives are that we try a sincere political dialogue, although I'm afraid that this will show that what we are really seeing is a civil war.
euronews: But are we seeing a paralysis of the institutions?
Kellenberger: Yes, but not for the first time. You know very well that it's not only in the case of Syria that the veto has been used. It has been used quite a few times.
euronews: How have you managed to be recognised as an independent and neutral party by all the parties engaged in an armed conflict?
Kellenberger: They see that we don't take sides. By that I mean that we work exclusively based on humanitarian needs, for people needing protection and assistance. I'd say it's several things: not being opportunistic, really identifiable by our principles and capacity to act.
euronews: The International Red Cross has scaled back its programme in Pakistan over fear of serial abductions. Here, like in Iraq, Afghanistan or Columbia, abduction has become a means of waging war. Are we seeing terror succeed, in consequence paralysing humanitarian activity?
Kellenberger: What happened in Pakistan is really very serious in two ways. One is the loss of someone you work with who is highly committed and very courageous – the loss of someone working to help. And the other aspect is that, naturally, you have to react after what has happened, based on what you know. This may mean that you have to withdraw from a region. If this sort of thing becomes systematic – you are correct – it would be extremely serious. These are failures, failures of humanity, because it is very bad for everyone, and it's also a failure in terms of access.
euronews: It is indisputable that, following the attacks of September 11, 2001, the fight against terrorism impacted against human rights. You yourself have experienced tensions with the United States because of Guantanamo. Are you in favour of reinforcing the legal protection of the victims of armed conflicts?
Kellenberger: There were very difficult periods and enormous differences, notably after a key decision by the US Supreme Court in 2006, in which the applicability of parts of the Geneva Convention was recognised. It truly opened up a major question of legal process. It's true that, after September 11, I believe that certain circles really did have trouble finding a balance between military necessity, if you want to put it that way, and humanity. That was really a mess, on the one hand on a values scale and also, one could think, at one point, that security as one of those values started to dominate all the others, including liberty.
euronews: Mr Kellenberger, are the rules of war today adapted to modern conflict?
Kellenberger: It is true that the lawcode enshrined in treaty is highly developed for the sort of conflict that today is no longer the main sort of conflict there is, which is to say conflicts between states, while it is thin on non-international armed conflicts. There is, certainly, a need to develop laws applied to wars which are not international conflicts.
euronews: Thousands of Palestinian families living in the West Bank have loved ones in Israeli prisons. Are there sometimes political obstacles that prevent you from carrying out your missions either in Gaza or in the West Bank?
Kellenberger: At the judicial level, the level of applicable law, there are clearly different views between Israel and the Red Cross. To take a very simple case, we consider that the fourth Geneva Convention is applicable, while Israel considers that humanitarian law is not applicable. There are thousands of Palestinian detainees whom we visit in prisons under Israeli authority, but we also visit detainees in those under Ramallah's authority, and under Gaza's authority.
euronews: You must know that Palestinian prisoners are threatening to hold a new hunger strike. Two people are in danger of dying. How can administrative detention imposed by Israel on Palestinians be ended?
Kellenberger: We are truly at the heart of a very big problem posed in Israel, but also which came up after September 11: the internment, for security reasons, of people not accused of a crime. Well, there, madam, I must tell you: it would be a major step in the right direction if we applied international humanitarian law, because it asks that we apply, in those cases, that we have an independent authority that oversees, that checks regularly whether a person is truly a continued risk to security, and if that person is not, then he must be set free.