Child workers - not always a bad thing
Comments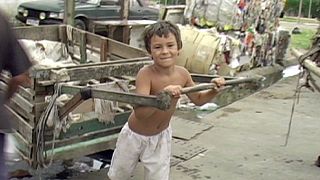 Tackling child labour remains one of the greatest challenges facing both the developed and developing worlds. It is estimated some 200 million children are involved in work worldwide, many in dangerous conditions. It not only exploits children, but also deprives them of their right to education.
In the gold mines of Kéniéba in Mali, children are an integral part of the workforce, washing the precious metal as generations before them have. But, via the Tackle project, children can learn to read and write – and dream of a brighter future."
In Mali, around three million children between the ages of five and 17 work. Gold washing is traditionally done by children.
Project coordinator Sidiki Almamy Coulinaly explains: "The Tackle project aims to combat child labour through education. We really want to take action at that mine because there are quite a lot of children working there who have no protection."
Tackle is funded by the European Union and tries to ensure that all children in Mali get an education, which is their legal right.
In the streets of Montevideo, thousands of kids scrape a living from what the city throws away. Known as 'Carritos' they spend their days collecting, transforming and selling their recycled wares by the roadside. It is dirty and dangerous work, but thanks to the efforts of one NGO they are getting a chance to go to school like other children.
Montevideo is the capital of Uruguay which is sometimes called the Switzerland of Latin America because it has a GDP of over 31 billion dollars.
But despite the country's wealth, many children there survive by picking through rubbish dumps for materials which can be recycled. Their parents are too poor to send them to school. But some children find an alternative to sorting rubbish. With a little help, their lives can change.
Gonxalo Salles, the director of 'Gurises Unidos' explained: "Everyone in the family has committed to a series of objectives. For example, the children will stop working and go to school. The adults will attend professional training and we can help with psycho-social support and study grants."
For more information see
www.extranoticias.cl/uruguay-busca-convertir-a-hurgadores-de-basura-en-guias-turisticos
www.sociedaduruguaya.org/2008/12/caos-vehicular-en-montevideo-por-marcha-de-hurgadores.html
But in some controlled circumstances work experience can be a positive, enriching experience, giving youngsters valuable lessons for later life. That is the philosophy of the Kid Tree School in China.
The children do not work from necessity but because it is fun and they want to. At the school they believe that working prepares children for life in the workplace. When they arrive, first they must apply for a loan from the bank. Then they can buy a tent to live in, a meal to eat and some medical insurance, leaving some money over for a savings account.
Teacher Liu Ling explained: "After children have been to this camp, their parents say they've grown up, and understood that earning money isn't easy. It helps them grow mentally."
At the camp, children try out different jobs. They can be police officers, or pilots, or airline cabin crew. Some of them try out being nurses. Many children arrive at the camp with clear ideas of what job they want to do, but after they have been to the camp, their ideas change.
So while the world agrees that child labour is a bad thing, it seems that a short taste of working life can be a boost.
The international community has set itself a deadline of 2016 to eliminate child labour in the world. A lot of steps have been taken towards achieving that goal, but there is still a long way to go.