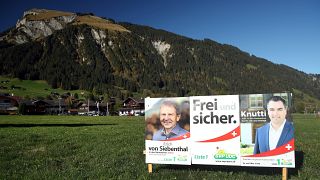 -
Copyright

DENIS BALIBOUSE/REUTERS
A Swiss right-wing party wants to call a referendum aimed at blocking climate legislation, according to party officials.
Switzerland's Swiss People's Party (SVP) - a national-conservative populist party - will within a few days call a vote, hoping to derail draft laws on cutting greenhouse gas emissions.
The SVP, a member of the ruling coalition in Bern, is campaigning against a law to make Switzerland carbon-neutral by 2050, though it has so far failed to get support from other parties.
The proposed legislation would cut CO2 emissions and accelerate the rollout of renewables, notably solar energy, backed by funding of 2 billion Swiss francs (€2.05 billion).
The SVP claims that further fossil fuel reductions would be counterproductive during the current energy crisis, triggered by the war in Ukraine and Moscow's halting of gas supplies to Europe.
How do Swiss referendums work?
Switzerland has a long tradition of putting policies to a public vote. Last year, its 8.7 million residents rejected a motion that would have ended factory farming, alongside another on banning animal testing.
Optional referendums are citizen proposals to approve or reject a piece of existing law. They need the support of 50,000 signatures to happen in Switzerland.
On Sunday, SVP energy spokesperson Monika Rueegger said that numbers "well in excess" of that total had signed up and that the party would probably announce the referendum on Monday.
As of Tuesday afternoon, the vote has not yet been declared.
An SVP spokesperson declined to confirm how many signatures had been gathered and said it planned to call the referendum on 19 January, the deadline for acceptances.
Is the referendum against climate laws likely to succeed?
Research by Zürich's Sotomo institute has previously identified climate change, including greenhouse gas emissions, as a top priority for Swiss citizens.
The SVP, which also favours tighter curbs on immigration, is the biggest group in Switzerland's 200-member federal parliament, but no other party has supported its referendum against climate laws.
This is not the first time the party has taken aim at the climate and its defenders. An SVP campaign poster depicts Swedish climate activist Greta Thunberg as a threat to security in Switzerland, while a recent tweet from the party brands climate activists as 'climate terrorists'.
Yet, even if Switzerland's climate legislation survives the challenge from the SVP, the proposed law aimed at curbing CO2 emissions faces other obstacles.
It too will require approval in a referendum to become law and is a watered-down version of a draft law that failed to pass in 2021.
In its 2015-19 programme, the party wrote: "Our environment is in a good way. The level of pollutants and emissions has not been so low since before industrialisation, and our rivers and lakes are also cleaner than ever."
"Despite a massive increase in population due to immigration… Switzerland has not only succeeded in meeting its international obligations in terms of environment - it is also, despite poor geographical and climate prerequisites, one of the industrialised countries with the lowest level of emissions per capita".