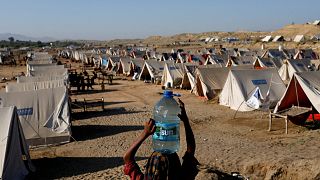 -
Copyright

REUTERS/Akhtar Soomro/File Photo
More than $8 billion (€7.6 billion) has been pledged by international donors over the next three years to help Pakistan rebuild after last year's devastating floods.
Prime Minister Shehbaz Sharif asked for a "new lifeline" in Geneva, Switzerland, where officials from 40 countries are attending an international conference on a 'Climate Resilient Pakistan' today.
The country led calls for wealthy nations to establish a fund to help vulnerable nations cope with the impact of climate change at the COP27 in Egypt in November. 
A historic decision was eventually made to establish a loss and damage fund that would support countries affected by droughts, flooding, rising sea levels and other climate-related disasters. It isn't yet clear whether Pakistan will be eligible for this fund. 
This meeting, however, has been seen as the first test of who should pay for loss and damage caused by climate change. 
UN calls on countries to implement loss and damage fund
At least 1,700 people were killed and 8 million displaced after record monsoon rains and melting glaciers led to flooding in Pakistan last year.
"We must match the heroic response of the people of Pakistan with our own efforts and massive investments to strengthen their communities for the future," UN Secretary-General Antonio Guterres said in his opening remarks.
This figure includes more than just flood recovery and rehabilitation efforts, Guterres added, but also initiatives to address social, environmental and economic challenges.
Women, for example, are up to 14 times more likely than men to die during disasters and are on the frontlines of humanitarian crises.
"It is crucial that women play their full part, as leaders and participants at every level, contributing their insights and solutions," the UN Secretary-General said.
He later told reporters that the decision made at COP27 in Sharm el Sheikh on loss and damage must be implemented.
"If there is any doubt on loss and damage - go to Pakistan. You will see loss, you will see the damage and you will see our common future."
Which countries have already pledged support for Pakistan?
The EU pledged €500 million towards Pakistan's "ambitious reconstruction plan" including €172 million for humanitarian support.
French President Emmanuel Macron also said that Paris was ready to help in talks with financial institutions.
"In Pakistan, we have therefore decided to mobilise a total of €360mn for projects, which will be launched to address the challenge of resilient reconstruction and therefore of climate adaptation," he told the conference.
Germany too pledged €84 million to help with recovery efforts.
On Monday, Pakistan's Information Minister Marriyum Aurangzeb sent a tweet saying that pledges had already reached $8.57 billion (nearly €8 billion) - more than the country was initially seeking.
The biggest donors included the Islamic Development Bank (€3.92 bn), the World Bank (€1.9 bn) and the Asian Development Bank (€1.4 bn). Other countries that contributed included China, the US and Japan.