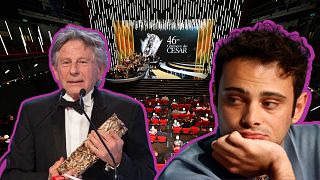 France's Cesar Academy, the country's equivalent to the US Oscars committee, has announced it will exclude anyone under investigation for sexual misconduct or violence from its 2023 ceremony.
This decision comes amid a recent polemic surrounding newcomer Sofiane Bennacer, a 25-year-old French actor currently under investigation for two counts of rape and one of domestic violence. 
In 2022 he starred in Les Amandiers  - internationally known as Forever Young. His partner and the movie's director, Valeria Bruni Tedeschi (sister of former first lady Carla Bruni-Sarkozy), admitted she knew of multiple warnings regarding the actor, but chose to brush them off as 'rumours'. 
The couple denounced 'relentless media fury', while alleged victims claimed a whole system in the cinema industry allowed the actor to rise, in spite of his reputation.
Bennacer's performance in the film has been widely praised by critics, and he was tipped to make the cut for this year's Cesar Awards nominees in the 'best new actor' category. But the Academy decided otherwise after receiving news he was under investigation for sexual and domestic violence.
The Cesar Academy said for this year's ceremony on February 25, no nomination will be possible for anyone under investigation for violence, including sexual violence. In a press release, the French awards' board declared it is looking at making this rule permanent, but will need to review its official rules.
Cesars criticised over Polanski in the past and present
In 2020, the Cesar Academy was heavily criticised by French actress Adel Haenel after Roman Polanski received an award for Best Director. 
The French-Polish film director has lived and worked in France for decades, in spite of being convicted of drugging and raping a 13-year-old girl in the US in 1977. 
He fled the country to go to France in 1978, and French authorities have refused to enforce an international arrest warrant against him. Polanski has admitted the actions he is accused of, but he claims they were consensual.
Haenel, who had recently spoken up as part of the French #MeToo movement, stormed out of the room, shouting 'It's a disgrace!'. Polanski supporters however, including actor Jean Dujardin who starred in his movie, J'Accuse (An Officer and a Spy), said the public should make a difference between the man and the artist.