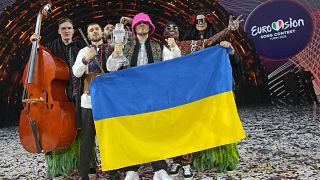 -
The UK cities in the running to host Eurovision 2023 have been announced. 
Despite the Ukrainian entry Kalush Orchestra coming first in Turin, Italy, extensive security assessments by the EBU and Ukrainian broadcaster UA:PBC found that hosting the event in Ukraine wasn't feasible.
As a result, British state broadcaster BBC has been invited to host the Eurovision Song Contest., which sees countries from Europe (and further afield) go head to head to be crowned Eurovision winner.
20 cities sent in 'expressions of interest' which demonstrated how they would honour and highlight the unique culture of Ukraine in their event. 
From the original 20, seven have been shortlisted to make official bids: Birmingham, Glasgow, Leeds, Liverpool, Manchester, Newcastle, and Sheffield.
Ukraine will automatically qualify for the contest alongside 'the big five' countries who contribute the most financially to the contest; Germany, Spain, Italy, France, and the UK.
Why isn't Ukraine hosting Eurovision?
Ukraine won Eurovision 2022 after a swell of votes in the voting round from the public with the UK entry Sam Ryder coming second place with his song 'Space Man'.
The win was a boon for Ukraine amid the Russian invasion which has seen death and destruction in the Eastern European nation.
The inability to host Eurovision 2023 has come as a blow to the country which has hosted the contest before in 2005 and 2017, however it is still set to play a big part in the event with representatives from UA:PBC coordinating with the BBC to incorporate Ukrainian elements.
"It is a matter of great regret that our colleagues and friends in Ukraine are not able to host the 2023 Eurovision Song Contest," says director general of the BBC, Tim Davie.
"The BBC is committed to making the event a true reflection of Ukrainian culture alongside showcasing the diversity of British music and creativity."
The race will now be on to see which UK city will act as host, with the seven contenders vying for the honour in a country which hasn't hosted the competition for 25 years. 
The corporation has staged the event more times than any other European broadcaster hosting in London in 1960, 1963, 1968 and 1977, Edinburgh in 1972, Brighton in 1974, Harrogate in 1982 and Birmingham in 1998.