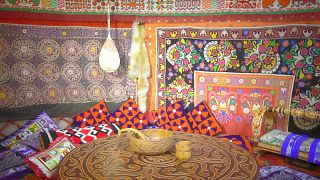 This week in Postcards we're in the Kazakh city of Almaty, where old traditions are being revived.
Key facts about the Kazakh region of Almaty:
The region is in the country's southeast
It shares a border with Kyrgyzstan & China
It covers an area of 225,000 sq kms
The city of Almaty is the country's largest
It is a former capital of Kazakhstan
 
The modern and the ancient have come together in the creation of a new centre of excellence in arts and crafts, with a project that is housed in facilities built for recent university games.
Euronews' Seamus Kearney reported: "As well as seeing all the beautiful finished products, visitors can actually watch the artists at work … and even take part in master classes, including one on how to make a traditional yurt."
The centre brings together some of the best craftspeople from Almaty and across the region, with a big focus on practical training.
Aigul Zhanserikova, the head of the Qazaq Oner Centre, told Postcards: "Our centre is important because our artisans are not only reviving and keeping alive traditional Kazakh handicrafts, they are also teaching the young generation."
Many of the products are made out of felt, leather, wood and bone, with pottery, patchwork and jewellery-making also very popular.