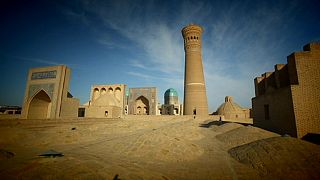 The Silk Road was a crossroads of philosophies, traditions, and religions, but above all commerce. Between the 16th and 20th centuries Bukhara in Uzbekistan was among the richest caravan cities along its route with up to 50 bazaars and 75 caravanserais, or covered market places.
Bukhara developed around trade and its remaining four domed bazaars give us a glimpse of how commerce influenced urban development at the time of the Silk Road. We can think of it as a huge medieval hypermarket, designed to allow traders to bring their goods in and out easily.
"The city had 11 gates leading to the centre. At the crossroads trade passages were built, we call them Toks," architect Zoircho Klitshev tells Euronews." Also, the roads between these Toks were covered with sunshades to facilitate trade."
The bustling commercial heart of the city with its streets of shaded stalls, caravanserais and bazaars formed one of the most colourful and cosmopolitan trading sites in the Islamic world.
"The main crossroad was covered by a central dome, then smaller domes covered smaller streets," says Klitschev. "These monumental edifices served as a landmark and protected junctions from the elements so that the crossroads – and the trade – would last a long time."
To visit a caravanserai is to open a door to the past. No more than 10 have survived. Ayoz, right in the centre, has just been restored and is still closed to the public.
Caravanserais were more than just somewhere to stop along the way, as Klitshev explains: "Caravanserais were places to live, to store merchandise and to do wholesale deals. From these large warehouses goods were sold wholesale for retail on the streets. Outside, the caravanserais were surrounded by shops. Retailers took goods from here and sold them on the street.
"Caravanserais are cultural artifacts. Maybe they are not as sophisticated as religious buildings, because they were meant for a civil use, but they have historical importance."
You could find all kinds of goods in bazaars, but carpets became Bukhara's trademark. The city's 12 ancient tribes are represented in the geometric patterns of the fabric. Intense red is a symbolic colour in these finely crafted treasures.
Sabina Burkhanova, whose family has been in the business for seven generations, explains why: "Bukhara carpet is red because in Zoroastrian times people used to pray for fire and sun, so when they couldn't make a fire or see the sun, they used to imagine a fire on the carpet."
Around 20 girls gather in her workshop to learn how to weave using a technique thousands of years old. A carpet can take up up to several years to years to complete, depending on its size, the number of knots per square centimetre, and the design.
"During two weeks they will be trained how to make a knot because to do one knot you need to move your fingers eight different times," says Sabina.
"And after, to be a master, it depends on them, how talented, how quick, how clever they are."
"It took me two weeks to learn and three years to become a master, and I still have things to learn," says Rano Ibragimova, one of Sabina's apprentices.
Around the main tourist areas Bukhara's ancient narrow streets are quieter but retain their age-old character and charm. There is much more to see in Uzbekistan, as we discover in our next edition of Uzbekistan Life from Khiva.