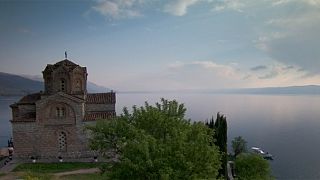 Ohrid: the hidden gem of the Balkans
Before travelling to Skopje for our three-part series on Macedonian life, I must admit that I had never heard the name Ohrid. Now, after seeing the place, I really can't believe how my radar for gorgeous destinations had never picked it up in the past. You only have to look at the images in my report to see what I mean.
Well, actually, the city and its beautiful lake do seem to be catching the eye of more and more people overseas. In April the Guardian newspaper in Britain mentioned Ohrid in a list of "10 of the best trips for students" this summer. I'm not surprised: inexpensive but classy, and with views that are hard to beat. No wonder this is where the former Yugoslav president Tito had his summer residence!
The highlight for me was the Church of St John at Kaneo, which overlooks Lake Ohrid and where there are pleasant nature walks. The church is believed to have been built sometime in the 13th century. According to historians, Ohrid used to have 365 churches, one for every day of the year. Now, the number is much smaller.
The city is the country's seventh largest, and in 1980 Ohrid and its lake were listed as a UNESCO World Heritage Site. This is also one of the key places where the Cyrillic alphabet is believed to have been created, at one of the city's ancient literary schools.
Ohrid, which is about 700 metres above sea level, hosts a number of summer theatre and music festivals, and is a popular destination for tourists in the region. Its blue, transparent lake is breathtaking and there are many leisure activities on and off the water. You can't help but constantly stop and marvel at the historical sites that date back to the time of the city's Byzantine, Bulgarian, Serbian or Ottoman rulers.
---
Singing proudly from the treetops
One of the people I interviewed for my report on Macedonian culture and heritage was Boris Trajanov, the world-renowned opera singer. But little did I know that he is also famous in his home country for encouraging hundreds of thousands of people to pick up shovels and plant trees across the countryside.
Tree Day has become so popular for Macedonians since being launched by Trajanov three years ago that it is now an official day off work. Crowds of people turn out to tree-planting events, including senior politicians and celebrities. The government, NGOs and other organisations are right in behind the programme, saying it is a great chance to raise awareness about ecological issues.
This year Tree Day was held on March 31, with an estimated three million seedlings planted. After the staging of seven similar days, some 30 million trees have sprung up across the country, covering about 8,000 hectares. The day is now held twice a year, with increasingly ambitious plans regarding the number of trees planted and the ground covered.
Trajanov spoke to me passionately about the project, saying he would like to extend it to other countries in the Balkans and even further abroad. He has already had high-level discussions on the subject. The idea came out of concern about the untold number of trees destroyed in summer forest fires that often hit the country.
I couldn't help but wonder how Trajanov finds the time to be an acclaimed operatic baritone, singing in major venues around the world, and at the same time an environmental campaigner. He is also a UNESCO Artist for Peace. But I suppose, as they say, where there is a passionate will and a fundamental cause, there will always be a way. I can just picture Trajanov in years to come, singing proudly from the treetops in those lush green zones he has helped develop.