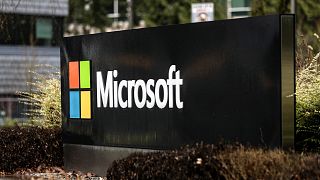 -
Copyright

REUTERS/Matt Mills McKnight
By Euronews with Reuters & AP
Microsoft plans to invest billions more in OpenAI, staking its future on the start-up and tech behind the popular new chatbot ChatGPT, as well as setting the stage for more competition with Google.
Recently touting a revolution in artificial intelligence (AI), Microsoft is building on a bet it made nearly four years ago on OpenAI. 
In 2019, the software giant dedicated $1 billion (€922 million) to the start-up co-founded by Elon Musk and investor Sam Altman, and has since built a supercomputer to power OpenAI's technology, among other forms of support.
"Today, we are announcing the third phase of our long-term partnership with OpenAI through a multiyear, multibillion-dollar investment to accelerate AI breakthroughs to ensure these benefits are broadly shared with the world," Microsoft said in a blog post on Monday.
A Microsoft spokesperson declined to comment on the terms of the investment, which some media outlets earlier reported would be $10 billion (€9.22 billion).
Microsoft is committing even more resources to keep the two companies at the forefront via so-called generative AI - technology that can learn from vast data how to create virtually any type of content simply from a text prompt. 
OpenAI's free writing tool ChatGPT launched on November 30 and has since taken the world by storm.
It's part of a new generation of AI systems that can converse, generate readable text on demand and even produce new images and videos based on what they've learned from a vast database of digital books, online writings and other media.
OpenAI's ChatGPT, which produces prose or poetry on command, is the prime example that last year gained widespread attention in Silicon Valley
Microsoft last week said it aimed to imbue such AI into all its products, as OpenAI continues to pursue the creation of human-like intelligence for machines. 
Microsoft is already adding OpenAI's tech to Bing, its search engine that for the first time in years is being discussed as a potential rival to Google, the industry leader.
The widely anticipated investment shows how Microsoft is locked in competition with Google, the inventor of key AI research that's now reportedly planning its own unveil for this spring.
Both companies announced mass layoffs last week, with 10,000 jobs set to be cut at Microsoft and 12,000 being culled at Google.
From nonprofit to coveted start-up
OpenAI, which is also the creator of the DALL-E tool for generating new images, started out as a nonprofit artificial intelligence research company when it launched in December 2015.
With Tesla CEO Musk as its co-chair and among its early investors, the organisation's stated aims were to "advance digital intelligence in the way that is most likely to benefit humanity as a whole, unconstrained by a need to generate financial return".
That changed in 2018 when it incorporated a for-profit business Open AI LP, and shifted nearly all its staff into the business, not long after releasing its first generation of the GPT model for generating human-like paragraphs of readable text. Musk also left its board in 2018.