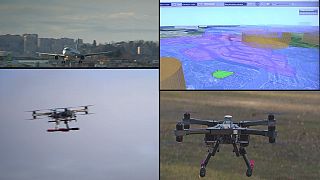 From simple toys to work tools, for surveillance or transport, drones have taken on an important function. But they can pose a threat to air traffic if they veer into airspace reserved for scheduled flights. What is being done to avoid dangerous close encounters?
Koen Vrints is the owner of Friend Productions, a Belgian company that manufactures drones designed for the movie and television industry. He was testing his latest product in a public park in Antwerp when Euronews visited him. Detailed knowledge of the airspace is needed, given the proximity to the city's airport, Koen explained to Euronews.
"The moment you take a course you get a lot of information on the airspace," said Vrints. "We get plans where we can see visually where locations are, where control zone from an airport is, where helicopter training area is and how we have to look at it on the plan."
That importance of that information is growing: the billion euro drone market is expected to create tens of thousands of jobs.
#Repostkoen_vrints with <a href="https://twitter.com/repostapp">repostapp
・・・
Aerial inspection today. #dji#licensed#gremsy #… https://t.co/tPzwipbGC3pic.twitter.com/dTVmVsNJdm

— Connex (@CONNEX_Amimon) December 16, 2016
Belgian company Unifly which develops software designed to assist drone pilots navigate the varied and complex rules for drones. Its free smartphone app looks at where you want to fly and tells you whether the area is unrestricted, if special authorisation is required, or if drones are forbidden.
"We know we're standing near an airport. And if you look at the system indeed, it tells me on the spot 'you cannot fly here,' because… I don't know yet why. I just click a bit further and it will tell me in detail why I'm not allowed to fly here," explained Unifly's chief business development officer Jürgen Verstaen.
With the latest apps, a virtual dome is mapped over the area where the drone is operated. It prevents it swerving into unauthorised airspace by creating a virtual wall.
"So, there's a link between our software and the drone that informs him: watch out, the virtual wall is here, you cannot continue," Verstaen added.
Air traffic regulators need to work fast to meet the demand from drones.
"The biggest challenge we're facing is: on the one hand we've a very conservative aviation community, where we take quite long years to make changes because we want to keep everything very safe; and now we've a very innovative industry coming up who doesn't want to wait five to seven years, it wants to implement things now," said Mike Lissone, Unmanned Aircraft Expert, Eurocontrol (The European Organisation for the Safety of Air Navigation).
Regulations which vary from country to country need to be harmonised across Europe to keep scheduled passenger flights and drones operating safely, and without unnecessary complications.
Antwerps #drone bedrijf UniFlyUTMS</a> haalt Europese 'Best Emerging Drone Company' prijs binnen: <a href="https://t.co/CU1JhIXKuB">https://t.co/CU1JhIXKuB</a> <a href="https://t.co/4KX2eWpemv">pic.twitter.com/4KX2eWpemv</a></p>— Business in Antwerp (BusinessInA) January 31, 2017
Did you know that EUROCONTROL provides ATM training? Check out our Training Zone https://t.co/XQcajBO0d1pic.twitter.com/o0Ps6mIkvn

—

EUROCONTROL

(@eurocontrol) January 19, 2017